Headline grabbers: best car news stories of 2019
From hatchbacks to hypercars, all manner of cars grabbed headlines in 2019, but these were some of the biggest and best news stories
Jan-Feb • Mar-Apr • May-Jun • Jul-Aug • Sep-Oct-Nov
July
2019 New Car Awards name the best of the best
It was months in the planning, weeks in the writing and days in the shooting all of the coveted Auto Express New Car Awards winners to put together our biggest issue of the year. Many victors in many classes went forward to fight for the overall gong, but there could only be one winner.
Showing the successful onset of electric cars and just how talented the best of them are, the Tesla Model 3 drove away with the title as our Car of the Year. It fought off stiff competition from cars like the Skoda Scala in the process.
Tesla has led the charge when it comes to premium electric cars, and its Model 3 not only brought the entry price to Tesla ownership down to a more affordable level when it launched (although it's still not exactly cheap), but also addressed some of the issues we'd had with previous Tesla models. Quality felt like a step forward and, if not perfect, an improvement.
But it was the ease of use that impressed us. An official range of 254 miles was backed up by an easy 220 miles from the efficiency numbers we recorded, so the Standard Range Plus model will be enough car for most.
The Performance showed it was lightning quick – as rapid as some super-saloons – while a greater claimed range of 329 miles is also offered. That's thanks to its bigger battery, making it the model to choose if you want to cure your range anxiety.
In the other classes, there were wins for Skoda with its new Scala. It knocked the Volkswagen Golf off the top spot in the family car class, thanks to its blend of space and affordability without sacrificing kit.
New entrants like the Mercedes E 300 de plug-in hybrid showed what a good halfway house looks like if you're not ready for a full EV. Elsewhere, the Ford Fiesta and Honda Civic Type R cemented their positions to hold on to their respective supermini and hot hatchback titles.
The overriding impression we got from the best new cars on sale was that we've rarely had it so good. From refined, mature city cars like the VW up! to luxury models such as the Mercedes S-Class and our Performance Car winner – the all-new Porsche 911 – there's something for all tastes and all budgets. But the common theme with the 26 cars we crowned as class winners was that they're all extremely well executed machines that deliver exactly what a buyer who's looking for those respective vehicles wants. This is what makes an Auto Express New Car Award winner.
£1,250 for a new car battery
Our exclusive investigation revealed huge discrepancies in car battery costs, with some drivers paying as much as £1,250 for battery replacement at main dealers, while others spent as little as £98. We compiled a list of the UK's 20 best-selling cars and contacted three franchised dealers across the country for prices. One Mercedes dealer quoted £1,248, while another charged just £315.
New Lotus hypercar goes electric
The unveiling of the first all-new Lotus in almost a decade didn't disappoint: the £1.7million Evija hypercar wowed us when it first broke cover, and the fascination didn't stop at the wild venturi tunnels that exit from the car's hoop-like LED tail-lights. That's because the Evija showcased an all-electric drivetrain with numbers that defied belief. Four motors – one for each wheel – combine to produce a staggering 1,972bhp and 1,700Nm. That's enough for a 0-62mph time below three seconds, a 0-184mph time under nine, and a top speed of more than 200mph.
Wraps off new Renault Captur
Renault sought to place itself as the posh option in the small SUV class when it revealed the Renault Captur Mk2. Sharing its platform with the new Clio, the Captur also borrowed the supermini's interior architecture – no bad thing, because it benefitted from the tech and build quality that could rival many premium crossovers. Elsewhere, the new underpinnings also meant the Captur would become more spacious, more refined and safer than ever before, while a plug-in hybrid model was confirmed for future sale. All the more impressive considering that the Captur starts from a competitive £17,600.
Extreme Mercedes-AMG A 45 unleashed
The reveal of the latest Mercedes-AMG A45 meant one thing: one of the hottest hatches ever just got more extreme. Power comes from a 415bhp 2.0-litre, turbo four-cylinder engine, with drive sent to all four wheels, which gives the car a 0-62mph of 3.9 seconds; that's faster than the AMG GT. Clever electronics include a 'drift mode' that allows drivers to engage in tyre-smoking antics on track.
Dealers under the Driver Power scope
Our second Driver Power survey focused on manufacturers' franchised dealer networks, as well as insurance and breakdown firms. Lexus won the competition by a clear margin, coming first in every category except value for money, where it finished fifth. Sister brand Toyota came second, while Subaru's impressive network took bronze. The majority of respondents to our survey didn't have any problems with their dealer in the prior 12 months, although one in 10 did have issues. GEM Motoring Assist was voted the best breakdown provider for the seventh year in a row, while NFU Mutual was ranked as the best insurer.
August
Discussions to ban hands-free calls
Some MPs called for a ban on hands-free phone calls behind the wheel. A committee heard evidence that such calls are just as distracting as holding the handset, and said the Government should "explore options for extending the ban on driving while using a handheld mobile". They added that the current penalties for using such a mobile are not strict enough and should be increased.
Volkswagen T-Roc cabriolet revealed
The Range Rover Evoque Convertible didn't exactly prove itself to be a roaring sales success, but that didn't stop Volkswagen telling us back in August that it plans to dip its toe into the world of drop-top SUVs with the T-Roc Cabriolet.
Taking the place of previous style-led VW convertibles such as the Golf and Beetle, while cashing in on the ever-growing SUV craze, the open-top T-Roc sports a chunky two-door body with space for four inside. The fabric hood takes only nine seconds to retract at the touch of a button, and can operate at up to 19mph. This folding roof means that practicality will fall behind the standard T-Roc SUV's, though; at 284 litres, boot space has dropped by 161 litres.
Production of the T-Roc Cabriolet will take place at VW's Osnabruck factory, which is the production site of many other of the brand's historic convertibles including the Karmann Ghia, Mk1 Beetle and Golf Cabriolet. The new model looks set to hit showrooms by spring 2020, with UK prices expected to start from approximately £25,000.
Rubber roads bounce into action
In August, Highways England laid a section of the southbound M1 between Junctions 23 and 22 with a new asphalt compound partially made up of rubber from disused tyres. It was trialling this in an effort to simultaneously save money and help the environment. Around 40 million waste tyres are produced every year in the UK, more than 500,000 of which end up in landfill.
Audi RS 6 storms in with 592bhp
Ahead of the Frankfurt Show Audi showed off its new RS 6. The latest fast wagon from the German company was revealed with a 4.0-litre twin-turbo V8 – enough for 592bhp, 800Nm and a 0-62mph sprint in a supercar-baiting 3.6 seconds. Performance is enhanced by the fitment of a 48-volt mild-hybrid system, which recovers energy during deceleration and adds a small boost under acceleration. At the same time, the system also trims the car's fuel consumption figures. The RS 6 is set apart from lesser models in the A6 range, thanks to a wild bodykit and wheels measuring up to 22 inches in diameter.
Jan-Feb • Mar-Apr • May-Jun • Jul-Aug • Sep-Oct-Nov
Review of the Year 2019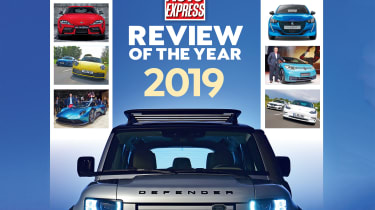 • Best car news stories of 2019• Best car reviews of 2019• Best car group tests of 2019• Best long-term tests of 2019• Best motoring features of 2019• Best car videos of 2019• Best motorsport stories of 2019• Our highlights of 2019
Click onto page 5 to continue reading the big news stories of 2019...