Renault Twingo 133 Cup vs rivals
Renault's new hot Twingo meets its Suzuki rival. But is either a better buy than Ford's entry Fiesta?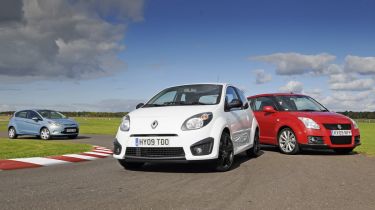 Good things come in small packages – that's what the engineers at Renaultsport believe.
Their magic, motorsport-inspired touch has already been applied to the tiny Twingo, but now the firm has followed the same formula it employs on the Clio, by producing a hard-edged Cup version.
It sacrifices air-conditioning to save weight and is fitted with a one-piece rear bench instead of independently sliding back seats.
To further sharpen the driving experience, it gets the stiff Cup suspension package as standard – this is a £650 option on the regular car – so the hot Twingo puts driving thrills at the top of the agenda.
The Suzuki Swift Sport is a stern rival. Not only is it similar in size, performance and price, but it also comes well equipped. For this test, however, we have thrown an interesting curve ball into the mix.
The Ford Fiesta is one of the best-handling models we've ever driven, and our reigning Car of the Year. To see just how much fun the talented Ford is, we've included it in this shoot-out.
If you want a Fiesta for hot Twingo money, you're limited to a no-frills 1.25-litre Edge – so can a run-of-the-mill version of the accomplished supermini really be as much fun to drive as a pair of sporty city models?
>> CLICK HERE FOR ALL THE REST OF THIS WEEKS LATEST NEW AND USED CAR NEWS AND REVIEWS
Verdict
Can a standard Ford Fiesta deliver enough thrills to match the latest crop of similarly priced, smaller hot city cars?
It's a testament to the talent of the supermini that, thanks to its beautifully weighted controls and balanced handling, it comes close to taking on performance models for pure driver involvement.
Our current Car of the Year also rides superbly, offers class-leading refinement and a roomy cabin.
But there's no substitute for power and performance when it comes to putting a smile on your face.
So for thrill seekers, the cheaper, more powerful hot hatches win the day.
Picking between them is tough – when we tested the Swift Sport against the standard Renaultsport Twingo, the Japanese hatch took a very narrow victory.
Its suspension, steering and brakes don't feel as fine-tuned as its French rival's, but the Swift has a higher-quality cabin, is well equipped and slightly more comfortable – so this is the stronger everyday choice.
Yet we set out to find the best driving thrills, and if you're after the most entertaining package at this price, then go for the Twingo.
1ST: Renaultsport Twingo Cup
The Twingo Cup offers incredible grip, superb body control, strong brakes and punchy performance, and is enormously entertaining.
Renaultsport's race-bred attention to detail is clear to see, and this goes some way to excusing the cheap cabin and firm ride.
2nd: Suzuki Swift Sport
A blend of pace, practicality and fun will make the Swift a popular choice.
But it isn't as sharp to drive as the Cup, and the Fiesta offers more comfort, space and refinement.
The Suzuki doesn't have the Ford's feedback, and its chassis isn't as accomplished.
3rd: Ford Fiesta Edge
There's no shame in finishing third for the Fiesta – as its brief is very different to that of our hot duo.
While the 1.25-litre Ford trails on power, the impressive handling and great refinement are still a match for the sporty models.