Chevrolet Volt vs rivals
We pit the new range-extending Chevrolet Volt against the hybrid Toyota Prius and the diesel VW Golf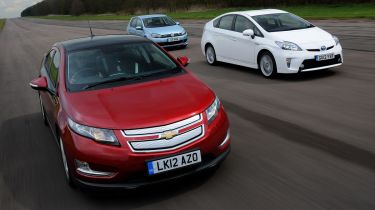 The exciting new Chevrolet Volt is out to change the way we drive. As with its Vauxhall Ampera sister car, it uses a novel range-extending electric powertrain.
By combining an electric motor and petrol generator that stops the batteries going flat, the Volt can travel around 300 miles before it needs a recharge. Plus, at £29,995 it's the cheapest way to get behind the wheel of a GM range-extender; the Ampera currently starts at £32,250.
Facing the Chevy is a formidable pair of family friendly eco rivals. The Toyota Prius is the original and most successful petrol/electric hybrid. Under the skin it matches the Volt for hi-tech running gear and kit, while sub-100g/km CO2 and good economy should make it cheap to run.
Better still, a recent facelift promises to sharpen the car's looks and driving dynamics. We test it in top-spec £24,910 T Spirit trim. Our final contender is the evergreen VW Golf BlueMotion.The five-door hatch's frugal 1.6-litre diesel, upmarket image and attractive £20,015 price will make a lot of sense for buyers looking to slash their motoring costs and reduce their eco impact.
What's more, its traditional engine set-up and manual gearbox mean the driving experience is just like any other Golf's. So which of our fuel-sipping contenders will take top honours in this battle of the eco warriors?
Verdict
The Chevrolet Volt had it all to do here. Its clever range-extending set-up has already proven its winning credentials in our test of its Vauxhall Ampera sister car, but the Chevy is an expensive option in this company, with its £29,995 price.
More reviews
Car group tests
In-depth reviews
Road tests
However, it's the Toyota that finishes third. While revisions make it better behind the wheel, the flaws still remain. It needs careful driving to deliver its best, while the CVT hurts refinement. The imminent plug-in version will be a better bet.
Separating the Golf and Volt is tougher. Plug it in to charge every day and the Chevy will return 200mpg-plus, while the petrol generator lets you take longer journeys without breaking a sweat.
It costs much more than the Golf, but if it fits your lifestyle the savings on company car tax and fuel will go some way to offsetting the price premium. It also comes with more standard kit.
Yet by the narrowest of margins it has to give best to the Golf. It undercuts its rivals on price and returned 58.9mpg in our hands. It's also practical, good to drive and well built. And if you cover a big annual mileage, it's the top choice.
Winner: VW Golf ★★★★
It's a close call, but the Golf takes the win. The BlueMotion drives like a normal Golf, delivers excellent fuel returns and is cheap to buy and run. It also demands the least compromises from owners. But its kit is sparse and it feels a little old-fashioned here. If the cost of range extenders comes down, the Golf's position could be in doubt.
2nd: Chevrolet Volt ★★★★
The Volt's margin of defeat is slender, but if you want an eco-friendly car for all occasions, it's tough to beat. While it's costly to buy and not as practical as rivals, it promises serious savings. If it fits in with your motoring routine, take the plunge.
3rd: Toyota Prius ★★★
There's plenty to recommend the Prius. It's spacious, well equipped and boasts improved driving dynamics. Yet its hybrid set-up doesn't deliver the expected returns at the pumps, while the characteristics of its CVT damage refinement.