Jaguar SS100
Built between: 1935-1939, number sold: 309, cool cat factor: 5/5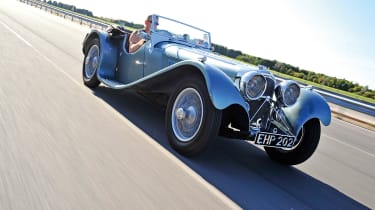 Mention Jaguar sports cars to most people, and they will probably think of the legendary E-Type or the early post-war XK120. But the firm's heritage in this field stretches back to pre-war days.
Various SS1 saloons and drophead coupés filled the order books in the Thirties, yet the two-seaters were its most glamorous offerings. In early 1935, the SS90 arrived. It was strikingly handsome, but lacked the performance to match its looks, as it used the same six-cylinder side-valve engine as the SS1 saloon. Only 23 examples were sold.
Then came the big news. In September 1935, the visually similar SS100 was launched, and with overhead valves and 102bhp, it could reach 94mph. Later SS100s got even faster as they were fitted with a 125bhp 3.5-litre engine, which gave a top speed of 101mph. Its price tag of £395 ensured that it was Britain's cheapest car to break the magical 100mph mark at the time.
In styling terms, the SS100 was distinguished from the SS90 by revised headlamps and a restyled radiator, which wore an 'SS Jaguar' badge. A total of 191 2.5-litre cars were produced between 1935 and 1938, with an additional 118 3.5-litre variants made from 1938 onwards.
The undisputed performance-per-pound champion of the Thirties, the gorgeous SS100 is still a wonderfully enjoyable machine to drive today. It proved the British firm could produce great two-seaters to match their stylish saloons and laid the foundations for Jaguar's future racing successes.
Details
WHY: Two-seater was the cheapest car to reach 100mph in its day.