Citroen C1 city car production ends
Citroen marks the end for its popular C1 model ahead of new Ami arriving in UK this spring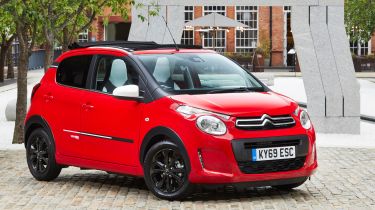 Citroen has confirmed that the C1 is now out of production, bringing an end to the brand's involvement in the small, petrol-powered city car segment.
According to Citroen, the C1 racked up over 1.2million sales in a production run that stretched from 2005 to 2022. Both of the car's two generations were built in the Czech Republic on the same production line as the C1's Peugeot 108 and Toyota Aygo sister cars.
Toyota has since taken over the Kolin plant where the PSA-Toyota joint venture built the city car trio, and has revealed its successor to the Aygo: the SUV inspired Aygo X. Citroen and Peugeot have not confirmed plans for new petrol powered A-segment replacements but Citroen is launching the Ami, an electric quadricycle that will take over duties as the brand's smallest and most affordable model.
Not a direct replacement for the C1, the Ami is much smaller, measuring 2.41 metres in length and providing seating for just two. A 5.5kWh battery delivers a quoted range of 46 miles – with a full charge taking around three hours, while top speed is a claimed 28mph. Prices for the Ami will start at around £6,000 here in the UK, and over 12,000 people have already expressed their interest in owning one by making a £250 refundable deposit.
In a further effort to plug the gap in its range left by the C1, the brand's UK arm has revealed a new C3 variant called C3 You. It's cheaper than the outgoing C1 models, with a starting price of £12,995.
Now read about the Citroen My Ami Buggy concept...