Hyundai i30 N - Best track day cars
It was not that long ago that Hyundai was knocking out dreary model after dreary model reserved for people who's idea of excitement is a homemade Weetabix smoothie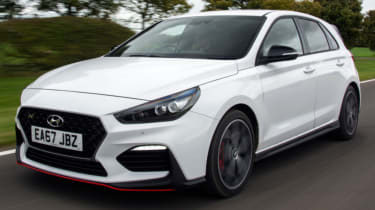 Price: £24,995
It was not that long ago that Hyundai was knocking out dreary model after dreary model reserved for people who's idea of excitement is a homemade Weetabix smoothie. But in 2017 the Korean marque revealed the i30 N, a hot hatch which is a genuinely enticing (and Weetabix free) proposition.
The i30 N is based on the standard car, but much in the same way you or I are based on the same platform of Usain Bolt, as the N has been engineered for performance. Underneath the bonnet there is a 2.0-litre 4 cylinder turbo which produces 247bhp or 271bhp if you opt for the Performance Package.
From a standstill you will reach 62mph in 6.4 seconds, but straight line speed is not where the hot Hyundai earns its keep. Show it a few corners and it comes alive, with the sports suspension working to keep traction at all times.
On the inside, there is a cabin you could live with every day. Which isn't terribly surprising as it is remarkably similar to the standard car's. However, what the standard car does not have is the wide variety of settings you can use to fine tune the i30 N to suit your driving style, there's even a 'track only' N mode.
Best track day cars 2019