Kia Niro PHEV - best plug-in hybrid cars
The Niro PHEV isn't the most interesting car to drive, but it's easy to live with and there's decent space on offer.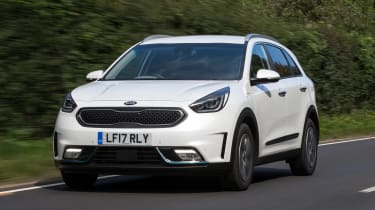 Traditionally, if you were interested in getting a hybrid car you'd have to compromise. Whether that was in terms of interior space, performance or price. The Niro PHEV proves you don't need to any longer by delivering the goods in each of these key departments.
Thanks to a tall, SUV-inspired look, there's bags of interior space. The Niro was always designed to incorporate hybrid power so there's only a slight infringement on boot space made by the battery hidden beneath.
Being a hybrid, efficiency is key. On paper at least, the Niro PHEV looks incredibly economical. Kia claims 217.3mpg - although you'll need to keep the battery regularly topped up to get near to those numbers. CO2 emissions of just 29g/km and a 36-mile electric-only range means the Niro PHEV sits in the appealing 16 per cent BIK tax band for company car users.
Despite the focus on economy, the Niro PHEV offers reasonable performance too. We tested the 141bhp 1.6 GDi version and found it's 1.1 seconds quicker from 0-60mph than a Toyota Prius at 9.2 seconds. While the engine is impressive and offers all the performance you would need, the DCT auto gearbox behaves similarly to Toyota's CVT and holds onto revs for a little too long - which can be unsettling. 
With pricing from around £31,000, the Niro PHEV is one of the cheaper plug-in hybrids you can buy while still offering enough space for family use. Look past the uninspiring handling and jerky gearbox and the Niro PHEV is hard to criticise.
Top 10 best plug-in hybrids to buy now