Kia Sorento KX-4 review
Kia's attempt to creep upmarket is built on strong foundations if the new Sorento 7-seat SUV is anything to go by
With a sophisticated new exterior design and the highest-quality interior of any Kia to date, the Sorento pushes the brand ever closer to the likes of VW. It might cost almost £40,000 in top-spec trim, but it justifies that price with seven useable seats, a polished engine/gearbox combination and excellent refinement on the move. If you're in the market for a seven-seater SUV, your hardest decision now is deciding whether to go for this or a Hyundai Santa Fe.
Kia is on a constant mission to move its brand upmarket, and who can blame it when that's where the juicier profit margins are to be found. So as the flagship of its rapidly-expanding range, the new seven-seat Sorento needs to demonstrate a level of quality and sophistication never seen before on a Kia to maintain that upward curve. With its smooth, unfussy surfaces and bold graphics for the headlights, taillights and 3D honeycomb front grille, the design is mature but unremarkable. We'd say its sister car, the Hyundai Santa Fe, is the prettier of the two, but considering the Sorento needs to appeal to a family man or woman whether they live in Korea, Kansas or Kent, the exterior is a well-judged compromise. It's the cabin, however, that needs to really impress if Kia has any hope of tempting buyers out of their Volvo XC90s and Audi Q7s. Compared to the Santa Fe the dash is noticeably less fussy with a large central screen surrounded by buttons and two horizontal banks of switches below that.
 Admittedly, we were driving a top-spec KX-4 model, but the high quality of the two-tone leather seats, leather-wrapped dash and all the switchgear is genuinely surprising. And things don't deteriorate lower down either, with an expensive-looking gloss finish on the side of the transmission tunnel and soft-touch surfaces on the doors. The new Sorento measures 95mm longer, 5mm wider and 15mm lower, with a 80mm longer wheelbase than its predecessor – but lower mounted seats means there's more headroom as well as more legroom than before. All UK cars will come with seven seats as standard, although the third row can be folded away seamlessly into the boot floor – increasing boot space from 142-litres to 605-litres. The second row is split 60:40, can slide back and forth to free up a little more leg room for those in the back, and if you fold it flat leaves a massive 1,662-litres of loading space with a flat floor – just 18-litres less than the Santa Fe.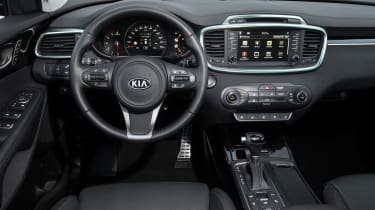 Only one engine option will be available in the UK – a development of the old 2.2-litre CRDi diesel now with 197bhp and 441Nm of torque (6bhp and 19Nm more). On lower-spec models you can have it with a six-speed manual gearbox as standard, but on our KX-4 range-topper a six-speed auto is standard fit.
More reviews for Sorento SUV
Fuel Economy and CO2 emissions figures are yet to be confirmed, but we're told they won't be any worse than the outgoing car's 42.2mpg and 175g/km, despite this new Sorento weighing 65kg more. Kia's engineers have added thicker soundproofing in the dash and transmission tunnel in an attempt to keep road and engine noise out of the cabin, and it's worked. With a light right foot and the engine ticking along there nothing more than a faint buzz in the background and a gentle rustle of wind from the wing mirros, while the auto box shifts smartly through the gears.
Driven this way the performance is more than adequate, thanks to a good slug of torque in the mid-range. Keep your foot pinned and the engine starts to sound coarse as you approach the redline, but then what diesel doesn't?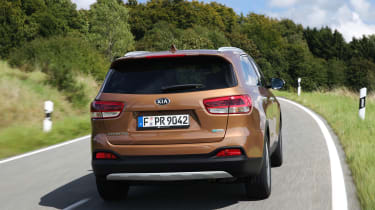 The electronic power steering always feels a little over assisted and doesn't weight up enough in the corners, but there's nothing wrong with the way the Sorento grips and changes direction. Select Sport mode and throttle response sharpens up just enough to make stringing a few corners together good fun, while body control is excellent for such a big car. The trade-off is that there's always an underlying firmess to the ride – it's never uncomfortable, but things get quite busy over rippled surfaces. Our test car was on 19-inch wheels though – we suspect smaller wheels would solve the problem. Exact UK specifications are still being decided, but there are a number of new technologies. Particularly useful is the 'Around-View Monitor' giving you a bird's eye view of the obstacles around the car, and the 'Smart Power Tailgate' that opens automatically when you approach it with the key in your pocket. 
Read about the best 4x4s currently on sale here...