Range Rover
The latest incarnation of the iconic Range Rover is voted by Auto Express readers as the best designed car of 2013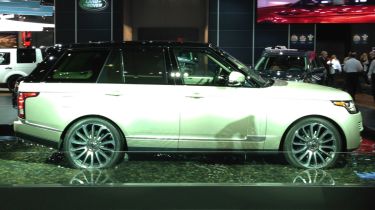 Each year, our design award is handed to the most eye-catching car to hit motor show stands 
and showrooms over the past 12 months. And as ever, it's Auto Express readers who've decided which model wins, by voting at www.autoexpress.co.uk.
This year's crop of contenders was larger than ever, with nearly 90 models in contention for victory – including the jaw-dropping Jaguar F-Type roadster, astounding Alfa Romeo 4C coupé and the heart-stopping Honda NSX concept.
Once again, thousands of votes were cast, but in the end, the verdict was resounding: a large majority of you chose the upmarket new Range Rover as your 2013 style champion.
Taking its cues from the British brand's successful Evoque, the latest Range Rover is the most stunning yet. With sleek, swept-back headlamps, aggressive 'gills' set into the front doors and a high-riding stance, it looks more imposing and modern than ever.
Yet the designers haven't forgotten the model's roots: you still get the trademark clamshell bonnet and floating roof panel. The slick design continues inside, where you'll find a minimalist dashboard layout, plus plenty of traditional wood and leather trim.
And the Range Rover's beauty is more than just skin deep. Thanks to the extensive use of aluminium, the new model weighs around 400kg less than its predecessor, so it's even faster and significantly more efficient than before.
Four decades after the trend-setting original debuted, the Range Rover proves that it can still turn heads and set the style agenda.