Vauxhall Ampera
The Vauxhall Ampera's innovative range-extending powertrain wins it our Green Award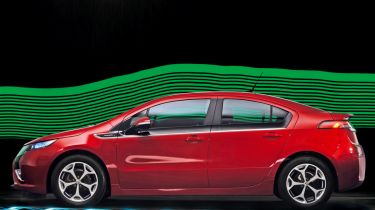 Manufacturers are working harder than ever to make their cars more eco-friendly, so it's a testament to Vauxhall's brilliant Ampera that it wins our Green Award for the second year on the trot.
It's no longer the only plug-in petrol electric model on sale, but it's still the best. At the heart of the car's appeal is its effective range-extending electric powertrain, which promises the zero emissions benefits of an electric car with the long-distance peace of mind of a traditional petrol or diesel model.
Despite its cutting-edge engineering, the concept behind the Ampera, and its Chevrolet Volt sister car, is fairly simple. A lithium-ion battery pack gives the powerful 148bhp electric motor a range of around 40 miles, at which point a traditional 1.4-litre petrol engine fires up to take the car another 300 miles.
But what separates the Vauxhall from its plug-in rivals is the fact that power to the wheels always comes from the electric motor, meaning you benefit from smooth and silent running all the time – only when you work the car hard does the noise of the petrol generator become intrusive.
And as long as you plug into the mains at least once a day, you should get close to the 235mpg claimed fuel economy and remarkable 27g/km CO2 emissions. Of course, this technology doesn't come cheap, but the recent introduction of a £29,995 entry-level Ampera means you can now drive the future 
for the price of a BMW 320d.