Nissan Micra's future being considered as an all-electric supermini
Nissan is considering leveraging Alliance tech from Renault to keep supermini alive but could walk away from the segment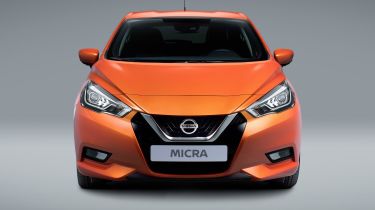 Nissan is turning to its Alliance partner Renault to see if it's worthwhile making a successor to the current Nissan Micra - and the car in question is all but certain to mark a switch to pure-electric power.
The Japanese brand's rival for the Ford Fiesta and Vauxhall Corsa has struggled for sales in its latest fifth generation, with numbers across Europe falling from more than 86,000 in 2017 to less than 40,000 in Covid-hit 2020. The costs involved in developing small combustion-engined cars for upcoming proposed Euro 7 emissions regulations look set to make them harder than ever to make money on, with Skoda boss Thomas Schafer pointing out recently that the price one of the Micra's key rivals, the Fabia, could rise by as much as £5,000 if the most stringent EU7 proposals are adopted.
Speaking to Auto Express, Nissan's European boss Guillaume Cartier said that the firm is not yet ready to commit to a Micra successor and admitted that it is investigating which Alliance resources might allow it to build such a car. "The core business today and tomorrow is crossover - Juke, Qashqai, X-Trail, Ariya, and the new car that we've spoken about [the Leaf-replacing crossover EV]," he said. "That's already five cars. Then for each car we have to make sure that we have the depth - enough powertrains to match the volumes we have. We want to make sure that this core, in terms of volume per model, is increasing.
"Then we use the Alliance. We will work with the Alliance for our full line-up of LCVs. But one topic remains open, and this is the entry point of the line-up. The key point is to say, 'How can we offer something, potentially with the Alliance, that will lure people to enter into the Nissan brand, and then enjoy to go model by model?' That's the one that we are considering. That's exactly the question that we have to solve."
When asked directly if the car in question would need to be electric, Cartier said, "Yes, that's absolutely key."
It seems all but certain, therefore, that Nissan is talking to its Alliance partner Renault about using the CMF-BEV architecture that's already earmarked for the replacement for the French brand's Zoe electric supermini, the retro-themed 5. That model is earmarked for introduction in 2024, by which point the current Micra will have passed beyond its usual seven-year model cycle.
That schedule will also be uncomfortably close to the proposed EU7 introduction date - and Cartier confirmed that Nissan has no plans to invest in its engines and vehicles to make them compliant with the new rules. "Strategically we are betting on electrification," he said, "to the point where we are not investing in Euro 7."
It is conceivable that Nissan could, in the end, decide to walk away from the supermini market altogether. Cartier insisted that "no conclusions have been drawn yet" on the potential use of the Alliance platform and perhaps significantly, his overall boss, Nissan CEO Makoto Uchida said that he believes the firm's global product portfolio is currently too extensive. "If you ask me do we have sufficient number of cars for Nissan today, worldwide I think it's too many," Uchida said. "We want to maximise our core product with more volume. That's what we're trying to do. On the question of small car or big car, the customer will
Would you like to see an all-electric Nissan Micra? Let us know in the comments section...