Porsche Cayenne S E-Hybrid - best plug-in hybrid cars
The latest Porsche Cayenne E-Hybrid is a great all-rounder and is hard to fault in any single area.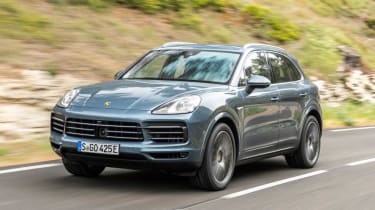 The automotive world was shocked to hear the current 911 will eventually be offered with a hybrid powertrain. But then, we were all shocked when Porsche unveiled the original Cayenne. Now the Macan and Cayenne SUVs are by far Porsche's best selling models. 
The latest Cayenne E-Hybrid won't please purists, but that doesn't mean it's not an impressive car. The turbocharged 3.0-litre V6 petrol engine combines with the 14.1kWh electric motor to produce a healthy 455bhp. Thanks to a clever active four-wheel drive system, the Cayenne E-Hybrid can go from 0-60mph in 4.7 seconds. 
The Cayenne's character is dependant on what mode you're in. Switch the steering wheel-mounted mode to 'normal' and the gear changes are smooth and the ride is refined, 'Sport' reveals slightly sharper inputs to deliver a vehicle more akin to a performance SUV and 'Sport Plus' gives the Cayenne a brutal nature by holding onto gears to longer to maximise acceleration and stiffens the suspension. There's also 'Individual' mode to customise each setting to your liking, but the Cayenne's pre-set modes will suit most tastes. 
Rear-wheel steering is an option which we would recommend - especially if you plan on navigating city centres regularly. Another beneficial option would be air suspension, which helps to deliver smooth ride comfort.
The Cayenne's official electric-only range of 27 miles will be tough to match in real-world driving with motorway miles and stop starts.The battery can be fully recharged at your home in around four hours when using a 3.6kW charger, so overnight charging is a possibility. The claimed 90mpg on the combined cycle is impressive, along with the relatively small emissions of 72g/km. 
Top 10 best plug-in hybrids to buy now