Volkswagen Polo (2009-2017) review
The Volkswagen Polo is getting old, but it's still a front-runner in the supermini class
It's a stalwart of the supermini class, and the Volkswagen Polo has a mix of grown-up driving dynamics, upmarket interior quality and low running costs that mean it's a consistent front-runner in the class. The fifth generation Polo was introduced in 2009, so it's not the newest car in the class, while its replacement is set to be revealed later this year, but that just proves how good the current Polo package is.
• Volkswagen Polo 1.0 petrol 2018 review
The first Polo arrived in 1975 as a rebadged version of the Audi 50 small car. It came as a three-door hatch or two-door saloon called the Polo Derby, while the Polo Mk2 of 1981 introduced a new three-door pseudo estate body. The hatch continued as the Polo Coupe, and this also spawned a supercharged G40 hot hatch, while the Derby saloon was also kept on the books. With a facelift in 1990, the Polo Mk2 remained in production for 13 years.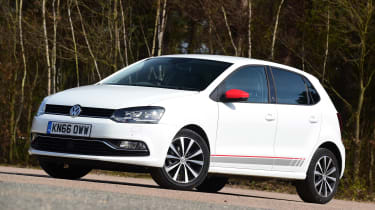 By the time the Polo Mk3 arrived in 1994, the supermini class was better defined, so it came in three or five-door hatch body styles, as well as slow-selling estate and saloon incarnations. The first Polo GTI arrived in 1999 as part of the facelifted Mk3 range, while the whole model range was replaced by the Polo Mk4 in 2002. By this time, the estate and saloon variants had fallen by the wayside, although the oddball Polo Dune added off-roader looks to the supermini mix. The Polo Mk5 arrived in 2009, and was the first version of the Polo that really felt like a shrunken version of the Golf, the Mk6 of which was launched the year before.
The current Polo comes as a three or five-door hatchback, but that's all - there are no estate, saloon or off-road variations on offer. However, the Polo range is broad, coming in S, Match, Match Edition, Beats, R-Line and SEL trims. In addition, there's the ultra-efficient BlueMotion, an eco-mined BlueGT warm hatch and rapid GTI hot hatch. Interestingly, the latest Polo BlueMotion uses a petrol engine, rather than the diesel found in past variants, while the rest of the range benefits from a range of BlueMotion Technology-branded upgrades.
There are a variety of engines offered, too, but you can't get every engine in every trim. The S model has a single engine choice, the underpowered 1.0 MPI 60PS three-cylinder petrol. Match (which replaced SE), Match Edition and Beats models are available with that engine in 60PS or 75PS guises, and you can also get the 1.2 TSI 90PS or 1.4 TDI 90PS diesel. The R-Line model adds a sportier look and comes with the more powerful 1.0 TSI 110PS turbo three-cylinder, the 1.2 TSI 90PS or 1.4 TDI 90PS. SEL cars get the same engines as the R-Line, apart from the 1.2 TSI.
While the older Polo BlueMotion came with an ultra-frugal diesel, the current car features the 1.0 TSI 95PS three-cylinder turbo petrol engine. It has claimed economy of 67.3mpg, which is actually poorer than the 1.4 TDI, which has claimed economy of 74.3mpg, although the petrol model is a more refined choice.
At the top of the range, the Polo BlueGT offers performance and economy, thanks to its 1.4 TSI 150PS engine. This 148bhp turbo four-cylinder features cylinder on demand technology that shuts down cylinders to save fuel when cruising, which helps the BlueGT return a claimed 58.9mpg, while still managing 0-62mph in 7.8 seconds. And finally there's the Polo GTI. It uses a smaller capacity variant of the engine used in the larger Golf GTI. The 1.8 TSI is rated at 192PS, giving the Polo GTI a 0-62mph time of 6.7 seconds, although compared to other hot hatchbacks, the Polo GTI is more of a capable and powerful performer than a very exciting one.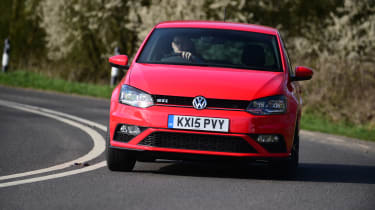 All cars get five or six-speed manual gearboxes as standard. If you want an auto, VW's seven-speed DSG twin-clutch gearbox is only available with the higher powered 1.0 TSI and the 1.2 TSI, while the BlueGT and GTI can be had with a DSG, too.
The supermini class is hard-fought, and there are a number of rivals that can match or beat the Polo in certain areas, although none are able to match its breadth of talent. The Ford Fiesta is the best seller in the class and is a more fun drive, and like the Polo it's due to be replaced by an all-new model later this year. Other top 10 sales regulars include the Vauxhall Corsa, Peugeot 208, Citroen C3 and Renault Clio. Elsewhere, the Polo has rivals from within the VW Group in the shape of the solid Skoda Fabia, recently updated SEAT Ibiza and upmarket Audi A1. And if you want reliable transport that won't fail you, then the Mazda 2, Hyundai i20, Kia Rio, Honda Jazz, Toyota Yaris and Nissan Micra are all worth considering.
The Volkswagen Polo is getting old, but it's still one of our favourite superminis. It offers a blend of performance, practicality, price and efficiency that's hard to beat, and has seen off newer arrivals in our most recent tests. The boot is smaller than expected, although there's still enough space for most occasions. The big benefit is that it offers good value and should be cheaper to run than the competition, plus it has a higher-quality feel.
The styling is a bit plain when compared to the likes of the Renault Clio, while the Ford Fiesta has the Polo licked for driving dynamics. However, as an all-round package it's hard to beat.
There's lots of engine choice in the Polo range, starting with a basic 1.0-litre three-cylinder, going right up to the rip-snorting 189bhp 1.8 TSI turbo petrol in the Polo GTI. Most engines are economical, although there's only one diesel option nw available. The 1.4 TDI is supposedly capable of 80mpg, but even the petrol BlueMotion model will return nearly 70mpg.
The real cost savings come at resale time, as the Polo's classy image ensures it has strong residuals, even though it's one of the older models in the class. Volkswagen's premium image helps - and the trademark build quality ensures it's a reputation deserved.
Engines, performance and drive
A wide range of excellent petrol and diesel engines work well with the refined manners of the Polo
The Polo has always been a step behind the Ford Fiesta when it comes to entertainment behind the wheel, mainly due to its rather lifeless steering. However, where the Polo does excel is with its refinement and composure on the move. It feels like a bigger car than it is and the post-2014 facelifted models are even more grown-up than before.
On cars with 16-inch alloy wheels, there's a slight firmness to the ride, but the Match model's standard 15-inch rims help the soft suspension iron out most bumpy surfaces. There's a touch more road noise than rivals from Mazda and Ford, but the Polo still feels refined on long motorway journeys.
• Volkswagen Polo vs Ford Fiesta vs SEAT Ibiza
Happily, this comfort and refinement does not come at the expense of handling. There's a fair amount of body roll, but grip is good and the Volkswagen isn't unsettled by mid-corner bumps. The steering is naturally weighted and precise, just not quite as communicative as the Ford Fiesta's. Visibility is good, making it easy to place the car and in general the predictable Polo inspires confidence on the road.
Transmissions across the range are either five or six-speed manuals – the five on the 1.0 MPI and 1.2 TSI 89bhp engines, the six on the 108bhp 1.2, the 1.0-litre TSI and the 1.4 and 1.8-litre petrols. Both variants of 1.4 TDI have five-speed gearboxes as standard.
A DSG dual-clutch automatic is offered for around £1,400 extra on all models bar the 1.0-litre MPI and TSI engines, and it's a seven-speed box in all instances. There are no problems with any Polo gearboxes – all are slick operators.
An optional Sport pack is available for the Polo GTI hot hatch, which alters the stability control, dampers, throttle response, exhaust note and steering weighting. While it sharpens up the car's behaviour, the dampers provide a harsh ride on UK roads. It's better to stay with the GTI in its standard set-up, where it proves to be an accomplished performance supermini. With plenty of torque, lots of grip and impressive handling, it's a highly enjoyable car on a back-road blast, although not quite as sharp as a Ford Fiesta ST.
Engines
Volkswagen provides a range of three and four-cylinder petrol and diesel engines for the Polo, from a mere 59bhp right up to 189bhp. The entry level unit is borrowed from the up! city car, a 1.0-litre MPI normally-aspirated three-cylinder engine of either 59bhp or 74bhp. Be warned, though, it feels markedly underpowered, especially the 59bhp example, thanks to just 95Nm of torque at a relatively high 3,000rpm.
It's better to opt for the superb 1.2 TSI unit, which produces 89bhp. It returns the same economy and emissions data as the 59bhp MPI engine, but offers a healthier 160Nm of torque from 1,400rpm to make it much more pleasant in day-to-day driving. There's also a 1.0-litre 108bhp TSI, too, which is available on R Line and SEL models.
At the top of the range sit two performance models, the warm BlueGT and the full-blooded GTI hot hatch. The former uses a 1.4-litre TSI engine rated at 148bhp at 5,500rpm and 250Nm from 1,500rpm; it also employs Active Cylinder Technology (ACT), which allows it to shut down two cylinders under light driving demands to save fuel.
The pre-facelift Polo GTI had a 1.4-litre supercharged and turbocharged petrol engine, but this has now been replaced by a muscular 1.8 TSI turbo unit, which is a sleeved-down version of the engine from the Golf GTI. This delivers a robust 189bhp from 4,200 to 6,200rpm and the most torque of any Polo with 320Nm from 1,450rpm to the point that peak power arrives.
All the engines are smooth and pleasant motors, although we think the 1.2-litre is the sweet spot of the range – it's an enjoyable powerplant that's more than capable of dealing with the Polo's weight which is in the 1,100kg ballpark.
There is another petrol option but only on the BlueMotion eco-model – it's the Volkswagen Group's new 1.0-litre turbocharged three-cylinder unit. It delivers more power than the 1.2 TSI with 94bhp at 5,000rpm and matches the 1.2 on torque, delivering 160Nm from 1,500- to 3,000rpm. It's an excellent little motor that has already spread further up the range with the R Line and SEL models.
The diesel side of the line-up is handled by a solitary 1.4-litre, three-cylinder TDI engine in two forms – rated at either 74bhp at 3,000rpm and 210Nm from 1,500rpm, or 89bhp at 3,500rpm with 230Nm from 1,500rpm. We like this engine, as despite being a touch harsh on start-up, for a diesel in such a small car it's surprisingly quiet. It is worth noting, however, that the TDI engine is heavier than the TSI units so it renders the Polo less agile in the corners.
Performance ranges from the outright slow to the seriously rapid. The 1.0 MPI engines take at least 14.3s and as much as 15.5s to drag the Polo from 0-62mph, with top speeds struggling to surpass 100mph. Even the 89bhp 1.2 TSI significantly improves the benchmark sprint to 10.8s and the BlueMotion's 1.0 TSI just edges it at 10.5s.
The TDI is not great on paper, with a 0-62mph time of 12.9 seconds in its low-power guise, but the extra midrange torque it provides is well worth having. And while the GTI obviously takes the performance spoils with a 6.7-second sprint and 146mph capability, don't overlook the BlueGT – it manages respectable data of 0-62mph in 7.8 seconds and a top speed of 137mph; more than enough for most people's needs.
MPG, CO2 and Running Costs
Engines return excellent economy, and residual values are among the strongest in class, offsetting the Polo's high price
Go for the Volkswagen Polo 1.4-litre TDI diesel, which emits 88g/km of CO2 and is claimed to return in excess of 80mpg, if you're after the most efficient Polo you can get. Although the price tag is very high, if you're driving a lot of miles and want low fuel costs it's a solid choice. The entry-level 1.0-litre petrol gets at least 58.9mpg and emits an impressive 108g/km, but it feels very underpowered.
The BlueGT gets up to 60.1mpg and CO2 emissions of 107g/km thanks to its cylinder shut-off technology, and even the stop-start equipped GTI has an official 47mpg economy figure.
In an effort to move its efficiency focus away from diesel power alone, the Volkswagen Polo BlueMotion is powered by an economical 1.0-litre turbocharged TSI petrol. This produces 94bhp, which is much more than its predecessor, and yet it is capable of returning up to 68.9mpg with CO2 emissions of just 94g/km. Those figures are pretty decent for a small petrol engine, but they're nowhere near the official 91mpg you used to get with the diesel engine in the old Bluemotion.
Insurance groups
As you'd expect, premiums will be higher for the GTI as it's in a lofty group 29 for insurance, but other models in the Polo range will suit young drivers' requirements for low insurance costs. The 1.0-litre MPI engine is in insurance groups 6-10 depending on spec, while the 1.2-litre TSI is in either group 14 (89bhp) or 18 (108bhp). The BlueMotion 1.0 TSI is in group 15, while the BlueGT bridges the gap to the GTI in insurance group 23.
Depreciation
This is one area where the Polo is bound to shine, as the strength of parent brand Volkswagen ensures it will be class-leading in terms of residual values. As an example, the 1.4 TDI SE is expected to retain 48.8 per cent of its purchase price over three years and 36,000 miles.
Optional extras are expensive across the range, however, and the cheapest models don't get too much equipment, so be aware that buying the car in the first place will require considerable outlay, especially compared to some non-European competitors.
Interior, design and technology
The Polo has safe but appealing exterior looks with a cabin of premium quality, although equipment levels can be sparse
Whichever model you decide to go for, the Volkswagen Polo is a stylish little car. It lacks the imaginative design of the Renault Clio or Mazda 2, but it looks smart and understated. The interior quality is up there with bigger cars like the Volkswagen Golf, and puts it ahead of rivals like the Ford Fiesta and Peugeot 208 on first impressions when you sit inside.
The 2014 model overhaul was by no means radical in terms of design, with the exterior gaining subtly sharper bumpers, a chrome strip for the grille and redesigned LED headlights on top-spec models.
While the Polo isn't the most exciting car to look at, you can't fault its fit and finish. Tight shut lines are a sign of its quality, plus the classless looks mean it will appeal to a broad cross-section of customers.
Inside, there's a neat three-spoke steering wheel and entry-level S trim is now slightly better equipped but still doesn't even get air conditioning. For that, you'll need to pay around £720 extra. We'd recommend mid-range Match which also comes with 15-inch alloy wheels, a chrome-rimmed front air intake, leather-trimmed multi-function steering wheel, glovebox-mounted CD player and electrically adjustable door mirrors.
Go for the Match Edition for a more stylish look, including 16-inch alloys, black gloss exterior detailing, front fog lights, tinted rear lights and windows, plus front sports seats and revised interior upholstery. The R Line simply adds body styling extras and interior goodies to make it look sporty, so isn't really worth the premium.
SEL cars build on Match spec with a number of these styling changes, but also feature standard-fit parking sensors – however, it's not exactly cheap. BlueGT models get a unique body kit, 15mm lower sports suspension and even bigger wheels signalling the presence of the punchy 148bhp 1.4 TSI engine.
The Polo GTI has styling similar to the larger Golf GTI. There are red accents for the honeycomb grille, big alloys, a roof spoiler and twin exhausts out back, while the cabin gets tartan trim. It's less than a grand more expensive than the BlueGT. If you're interested in the Polo BlueMotion, it is priced at around £14,800. Upgrading any Polo from three doors to five costs around £630, so we reckon it's well worth opting for the extra practicality offered by the rear doors.
Sat-nav, stereo and infotainment
The Polo has the same infotainment system as found in the Mk7 Golf. A five-inch touchscreen is standard on entry-level models, with all variants getting Bluetooth connectivity, DAB digital radio and a USB port. Opting for higher spec models adds a 6.5-inch display that's better, with smartphone-style swiping movements used to navigate through the different menus.
Match Edition and higher-spec beats models are the only Polos to get Volkswagen's CarNet App-Connect system as standard. It usually costs £130 and brings Apple CarPlay and Android Auto, which relay sat-nav maps via your smartphone. Plus, you can connect two devices simultaneously.
However, if you want a fully integrated sat-nav, you'll have to upgrade to the £700 Discover Navigation system. It's operated through the same 6.5-inch colour touchscreen, which also combines the radio functions and other car settings, as well as adding a speed limit display.
Beyond this, VW's CarNet Guide and Inform package brings a three-year subscription to VW's online services, delivering info on traffic, fuel prices, parking space availability and weather forecasts. The screen's graphics are crisp, while the responsive touchscreen and hot keys make it easy to use.
Practicality, comfort and boot space
The Polo isn't the most practical supermini, but it's not at all bad. Stick with the five-door version though
Even entry-level Polos come with a full size spare wheel, which is rare in this class – so you've got peace of mind in case of a puncture. Avoid the very cheapest models and there's a reasonable level of standard equipment to make life comfortable. The interior is very well built and should stand up to family life very well.
There are deep cup-holders and a handy tray in front of the USB and 12V sockets on the centre console to keep your smartphone in, while the standard touchscreen infotainment system is logically laid out and easy to use.
Size
At less than four metres in length, the Polo is actually smaller than some rivals, such as the Hyundai i20 and Ford Fiesta. It also weighs around only 1,100kg, give or take a few kilos according to specifications (the diesel engine, DSG gearbox and five-door options all add weight), which makes it a nimble car.
Leg room, head room & passenger space
There's decent head and legroom in the rear, and if you go for the five-door model it's easy enough to get in and out as well. Access to the rear seats is simple thanks to the wide-opening back doors, but legroom is a little tight. A high window line and dark cabin materials mean it feels claustrophobic in the back.
Boot
The Polo's 280-litre boot is not bad for its class, but it's nowhere near as spacious as the Honda Jazz and it's not great for trips to the dump. Split-folding rear seats are standard across the range, which boosts the capacity to 952 litres. The Peugeot 208's maximum of 1,152 litres means the Polo falls behind for boot space in its class, but it does get a false floor for hiding valuables.
Reliability and Safety
A good safety rating for the Polo is undermined by a poor showing in the Driver Power satisfaction survey
The pre-facelift Polo finished our Driver Power 2014 satisfaction survey in a lowly 119th place, then it slumped to 167th in 2015, and failed to chart in 2016. From its last appearance, owners were dissatisfied with its reliability, performance and seat comfort.
By way of compensation, Volkswagen has worked hard on the Polo's safety and all cars get electronic stability control, traction control, brake assist and post-collision brake application. Extras include adaptive cruise control, parking sensors and a driver fatigue sensor – but lane departure warning isn't available as an option.
The Polo earned a five-star Euro NCAP rating in 2009, but its percentage scores should have improved with the 2014 facelift. However, it only gets four airbags as standard – curtain bags will set you back around £475.
On the plus side, it does benefit from Volkswagen's latest touchscreen technology and will come with the most recent software updates, so the in-car infotainment should be trouble free.
Deals
Latest VW Polo deals, save from £1,878
Warranty
Volkswagen provides a three-year/60,000-mile warranty but it's worth investigating the small print. Years one and two are manufacturer cover with unlimited mileage, while year three is a 12-month/60,000-mile retailer warranty. Should you exceed 60,000 miles in the first 24 months, the manufacturer warranty will remain valid but the extra year will no longer be available.
An extended warranty is available for a fee, offering cover up to a maximum of five years or 90,000 miles. Body protection is good, the Polo's internal body sections and panels covered against rusting through from the inside for 12 years. The paintwork is covered for just three years, though.
Servicing
Working on a variable, condition-based servicing schedule, each Polo will require maintenance at different times according to how it is driven – urban drivers, of which there should be plenty with this Volkswagen supermini, will put more strain on the car's consumables than those who do a lot of motorway miles. However, there's a three-year fixed servicing plan on offer, which means you won't get stung for costly maintenance.
For an alternative review of the latest Volkswagen Polo Hatchback visit our sister site carbuyer.co.uk
Which Is Best
Cheapest
Name

1.0 EVO 80 S 5dr

Gearbox type

Manual

Price

£15,010
Most Economical
Name

1.0 TSI 110 SEL 5dr

Gearbox type

Manual

Price

£18,935
Fastest
Name

2.0 TSI GTI 5dr DSG

Gearbox type

Semi-auto

Price

£22,130