Best used executive cars
The Volvo S90 is the best used executive in our Used Car Awards 2020
Best used executive car: Volvo S90
Our Pick: Volvo S90 D4 Momentum (2017/17, 22k miles, £16,700)
This year's best used executive car is the Volvo S90, and for a very good reason: it's a total bargain on the second-hand market, and you'll struggle to find anything newer, or with a lower mileage for the cash.
That's before you even consider the merits of the Volvo over traditional executive favourites such as the BMW 5 Series or the Mercedes E-Class. Here is a classy saloon that oozes quality, comfort and refinement, and a dash of exclusivity, too.
The S90 is still on sale as a new car today, making the prospect of finding a current model for a fraction of the price on the used market hard to ignore. There's plenty of choice out there, with the market for S90s growing steadily since it hit showrooms in 2016 into the fruitful pickings you'll see in classifieds today.
D4-engined models use a refined and economical 187bhp 2.0-litre diesel, and in Momentum trim stand out as some of the best deals. This model represents the entry-level version of the S90, but that's a relative term, and equipment levels are very strong. You'll get plush leather seats, plenty in the way of driver-assistance features, including cruise control, a pinpoint-sharp nine-inch touchscreen infotainment system with satellite navigation and even digital dials.
However, if you'd prefer a sportier R-Design car or a plusher Inscription model, they're out there for the same kind of money, just with a higher mileage on the clock. For instance, our pick of the classifieds was a 17-plate D4 Momentum with 22,000 miles for £16,700. Yet for £16,995, you could be driving a range-topping Inscription car, but with the wear and tear of 49,000 miles.
The Volvo is a cruiser and not much of an entertainer, but if you value comfort and quality, it's a solid choice.
Finance options
A large, upmarket, three-year-old car is never going to have a low cash price, but this S90 has surprisingly affordable monthly payments. That's because it's expected to be worth well over half the original cash price when the contract ends. As a result, monthly payments are just £259, with a £1,800 deposit. If you wanted to buy the car at the end of the contract, though, you would have to pay more than £10,000.
Commended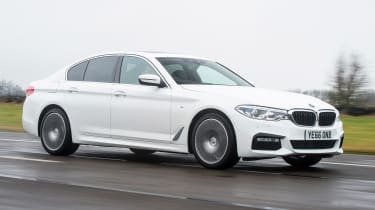 The 5 Series is a previous Used Car Award winner, and being commended here demonstrates what a great car it is. It's superb to drive, and previous-generation F10 models in 520d spec are abundant. Some newer G30 versions are beginning to wear tantalising price tags, albeit with high mileages
Left-field choice
Saab 9-5 Mk2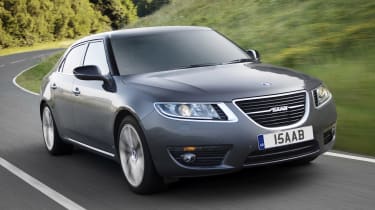 Not a choice for the faint-hearted, but certainly something different. The short-lived 9-5 was outgunned by its rivals, but offered an enormous amount of space, matching the larger BMW 7 Series of the time in terms of size. What remains on the second-hand market is cheap, but very high-mileage.