Manufacturers: 20 - 11
Most of the midfield finishers in the Driver Power top 30 have improved on past results, including one big mover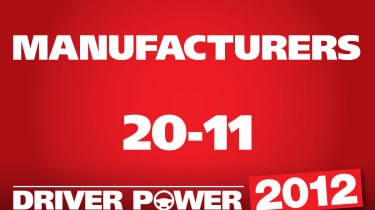 20. Land Rover
Overall rating: 82.51%2011 ranking: 26
An encouraging performance from Land Rover helps to repair the damage of its shocking 13-place tumble down the table in 2010. Despite its relatively low position in the chart, the company delivers some of the highest scores in a number of categories. You rate it as the second best of the bunch for practicality and fourth best for ride quality. But there are some big gripes, too, with Land Rover voted second worst for running costs and fourth worst for handling. A better score for the dealer network would also help the 4x4 brand climb again.
19. Mitsubishi
Overall rating: 82.73%2011 ranking: 21
Slowly but steadily, Mitsubishi seems to be making the improvement owners have demanded, and its reward is a mid-table place. It climbs two positions this year, after its one-place rise in 2011 – and that takes the company ahead of a host of high-profile rivals. It's being held back by having the sixth worst score for running costs and fifth worst for technology. Below-average rankings for ride quality and handling are also hampering the brand. But what's clearly concerning you more is the level of service you get from your local main dealer.
18. Volkswagen
Overall rating: 82.83%2011 ranking: 15
Volkswagen will be relieved to have retained its position in the top 20 after tumbling three places in 2012. Why has it dropped to 18th? The answer is obvious: it's not offering good enough value for money. Owners criticised its cars for costing too much to run and not providing enough cutting-edge technology. The dealers have improved, as far as VW drivers are concerned, but that wasn't enough to prevent the slide. The message is clear: VW needs to start giving you more for your money if it wants to get closer to the top 10.
17. Mazda
Overall rating: 82.86%2011 ranking: 18
A steady performance in 2012 has seen Mazda regain some of the ground it lost in 2011, when it dropped four places in the Driver Power manufacturer chart. By and large, owners who took part in our survey were happy with their cars – look beyond the low rankings for ride quality and running costs, and Mazda drivers were more satisfied than those running Audis. But they clearly feel let down by the service the company provides: the dealer score falls for the second year in a row, and this is holding Mazda back overall.
16. Saab
Overall rating: 83.16%2011 ranking: 17
Saab has endured a disastrous year, yet owners remain very pleased with their cars – and amazingly, this has helped the brand climb one place in 2012. You weren't especially impressed with the running costs, nor with the cutting-edge technology on offer in the ageing model range, but in all other respects Saab was given decent scores. It's been a dreadful 12 months, with bankruptcy and showrooms closing, but the speculation that preceded this didn't seem to affect the quality of service provided by dealers – and for this they deserve a great deal of credit.
15. Audi
Overall rating: 83.47%2011 ranking: 7
What a difference a year makes. In 2011, Audi was your pick of Germany's big three premium manufacturers. But it's tumbled eight places in this year's ranking to fall behind arch rivals BMW and Mercedes. As with sister company Volkswagen, the big issue for owners seems to be value for money, with owners criticising Audi's cars for their high running costs. You tell us the brand's dealers could charge less, too, although overall the network has improved. Imagine how much further down the chart Audi would be if it wasn't for this.
14. BMW
Overall rating: 83.71%2011 ranking: 9
From a promising position of ninth in 2011, BMW has dropped five places to 14th this year, and will now be glancing over its shoulder. As with Audi, the result could have been worse had it not been for an improved rating on dealer service. But BMW will find little consolation in that, as its cars were ranked much lower than last year. As we revealed in our Top 100 countdown, the first-generation 1 Series plummeted 24 places down the chart, while the MkIV 3 Series also fell. Not even a strong Driver Power debut for the latest 5 Series could rescue BMW's average.
13. Vauxhall
Overall rating: 84.032011 ranking: 29
This year's most improved maker – by some distance – is Vauxhall. In 2011, the company was struggling to get into the manufacturers' top 30, but it's climbed an amazing 16 places in 2012. You gave good all-round marks to its cars, with the Insignia finishing a solid 21st in the Top 100 and second-generation versions of the Agila and Meriva putting in strong Driver Power debuts. But the improvement in dealer service is the main reason for the surge – and it leaves Vauxhall with real hope of breaking into the top 10 next year.
12. Kia
Overall rating: 84.13%2011 ranking: 13
One step closer to a top 10 finish for Kia. Last year it shot up five places in our manufacturer standings, and a rise of one position to 12th is still a respectable performance. But it could have been so much better. Kia's cars were very highly rated, with the highlight being the Sportage MkIII, which finished 22nd in its first appearance in the Top 100. But owners tell us that the level of service from dealers has deteriorated since our 2011 survey. So Kia clearly has work to do with its showrooms – if it can turn this round, it could have rivals worried in 2013.
11. Subaru
Overall rating: 84.39%2011 ranking: 6
Traditionally, Subaru has been one of the strongest performers in our annual satisfaction survey, but for the first time in years, the company has dropped out of the manufacturers' top 10. Owners have no gripes with the service they're getting: Subaru's dealers are rated highly again in 2012. What's holding the brand back is its cars' running costs – a consistent criticism in Driver Power for a number of years, with most Subarus featuring heavy 4WD transmissions and thirsty boxer petrol and diesel engines. Until the company addresses this, it's likely to carry on falling down the chart.