BMW 330e - best low emissions green cars
While also being one of the greenest cars on sale, the BMW 330e also generates 248bhp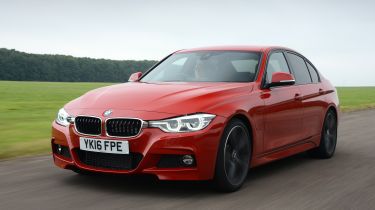 If you want a bit of zing with your green car, then BMW offers the great handling BMW 330e. This plug-in hybrid saloon delivers the kind of involving handling that BMW is famous for, but some of the low emissions magic of the i3 and i8 sports car have rubbed off on it. It's not a dedicated green machine, though, as BMW markets it as part of its iPerformance brand, which mixes low running costs with sporty driving dynamics. 
Power for the 330e comes from the 2.0-litre turbo petrol engine from the BMW 320i, plus an electric motor. The 330e has a claimed combined economy figure of 148.7mpg, while emissions are 44g/km for the base SE model - higher spec cars on larger wheels have slightly higher emissions. 
Even better, the hybrid system makes 248bhp, which is significantly more than the rival VW Passat GTE. The instant torque from the electric motor boosts the 330e's responses at low revs, and it accelerates strongly through the rev range, although the car does run out of puff the faster you go.
Still, there's plenty of power available for everyday driving, while the 330e handles like a BMW should. There's some extra body roll in corners and the weight of the batteries in the back does dull the car's responses when compared to a conventional 3 Series, but it's still a lot of fun to drive.
The petrol engine cuts in readily, and there's no facility to run in pure EV mode, although you can store the battery charge for use at a later date. Of course, like all plug-in hybrids, the 330e's real-world economy will depend entirely on how you use it and how often you charge it. But with the petrol engine cutting in on a regular basis, the 330e is likely to be less efficient than a VW Passat GTE being driven in a similar way.
Best green cars