VW Polo BlueMotion 1.0 TSI - best low emissions green cars
Volkswagen's classy Polo supermini is at its greenest in Bluemotion guise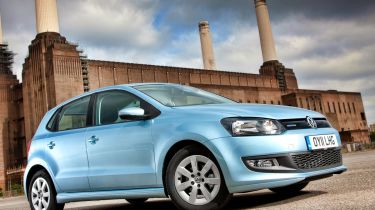 If you need proof that Volkswagen has been hit hard by the Dieselgate emissions scandal, the current Polo BlueMotion is a clear indicator of its impact on the firm. BlueMotion models, as opposed to VW's BlueMotion Technology badge, are the greenest, cleanest, low-emissions cars around, and the concept was pioneered by the original Polo BlueMotion in 2006. But while that car had a diesel engine, the current Polo Bluemotion has ditched the black pump in favour of a green petrol one.
The original BlueMotion featured a smoother look than the standard Polo, with a blanked-off grille and an extended rear window surround, plus lowered sports suspension and low rolling resistance tyres to reduce drag. Under the skin the BlueMotion had a specially tuned version of VW's 1.4 TDI three-cylinder diesel, mated to a five-speed gearbox with extra-long gear ratios. The end result was economy of 74.3mpg and one of the first cars to dip below the 100g/km emissions threshold.
Fast forward to now, and while initially the Polo BlueMotion was still sold as a diesel, it made way for the petrol version in 2015. The new BlueMotion features all of the same efficiency tweaks as the original, it just happens to be powered by a 94bhp 1.0 TSI turbo three-cylinder engine. This is good for a claimed economy figure of 68.9mpg combined and emissions of 94g/km.
The petrol Polo BlueMotion is a sprightly performer, with a 0-62mph time of 10.5 seconds, while the slick five-speed gearbox and sprightly handling belie the car's restrained looks. And there's even better news for company car buyers: as well as having a lower list price than the old diesel BlueMotion, the petrol car doesn't suffer from the three per cent diesel Benefit In Kind surcharge, so your running costs are slashed even further.
Best green cars