'For every excessive price published, there are several tempting ones'
Thinking of buying a new car? Mike Rutherford takes a closer look at the official published price lists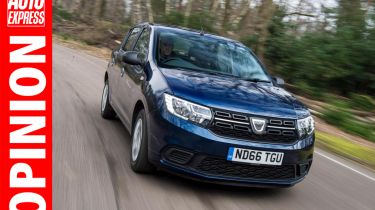 I've been reading plenty of highly entertaining, occasionally hilarious fiction this summer. Some – not all – car manufacturers are responsible for keeping me amused, with their published official price lists (not to be confused with discount prices that may be available).
Before you can appreciate the comedy of what some of these documents contain, it's important to remind yourself of a few oft-forgotten parameters. World-class city cars still start at a not-unreasonable £9,000, and around £11,000-£12,000 places you in quality supermini territory.
Think £16,000-£17,000 as a fair official price for a credible family hatchback. Make that nearer £20,000 for a pukka family saloon. And even if you impose a cap of £30k, you could still end up with a proper premium sedan or SUV.
Simple, right? But the comedy kicks in when Volkswagen, for example, insists that its range-topping city car (the e-up!) costs £25,280. Audi A1 superminis starting at £15k-plus are also funny for the wrong reasons, as is the humble 1.0-litre Focus on which Ford slaps a whopping £21,535 sticker. That's a near-identical price to the larger-engined Mercedes A-Class or BMW 1 Series – and it's bonkers.
Move up a notch or two, and at less than £30k there's a fleet of premium saloons and SUVs oozing style, cachet, heritage and desirability. So you can see why Hyundai has failed with its bid to sell its Genesis from £51,585. And the version of Nissan's GT-R listed at £149,955 puts the Japanese brand into Ferrari pricing territory. Oh, how we laughed.
But for every excessive price published by manufacturers, there are several tempting ones. The McLaren 540C is a bargain at £127,820. Porsche's sub-£50k Cayman is a steal. And with the Discovery Sport and gorgeous new E-Pace coming in at less than £30k, plus the Evoque and F-Pace from a tad over it, Jaguar Land Rover has arrived at a pricing sweet spot that looks superior to every other car maker – except Dacia!
I'm not complaining, but it defies economic logic that, year after inflationary year, this Renault-owned company continues to list the Sandero at a piddling £5,995, the Logan from £7,295 and the Duster at £9,495. So you could bag a versatile lorry-load of Dacias for about the same as a 1.0-litre Focus. Now that is tragically funny.
Do you agree with Mike? Let us know in the comments section below...