9 things we learned at the 2018 Geneva Motor Show
The trends, technological marvels and interesting details we spotted at the 2018 Geneva Motor Show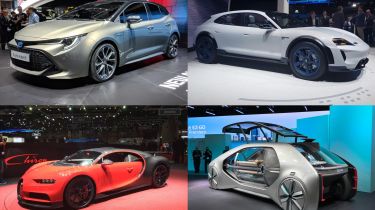 In some respects motor shows have changed very little in the years since Geneva first held its version of one in 1905. The old 'room full of cars thronging with people looking at and talking about cars' format has endured. In other ways, however, motor shows and the motors they show have evolved out of all recognition, to the point that a patron of Geneva 1905 teleported onto the floor of the 2018 Geneva Motor Show would find it a strange and bewildering place.
Even the seasoned 21st century journalists on the Auto Express team are not immune to the odd bout of motor show bewilderment - although it rarely gets the point when they need to loosen their cravats and break-out the snuff boxes - that's because even from year-to-year, the pace of change in the automotive industry is rapid.
• Everything from the 2018 Geneva Motor Show
If anything, it's accelerated in recent times with the integration of communications and autonomous driving technologies, the push to lower emissions with electric and hybrid powertrains and advances in manufacturing techniques all transforming the cars we see on the motor show stands.
At the 2018 Geneva Motor Show all these processes loomed large as the manufacturers jostled for attention with their announcements and unveils. A flood of information spewed forth and we learned a huge amount about the big picture and directions the industry will be heading in over the short, medium and long term. Of course, at the same time as the major overarching strategies were being mapped out there was a huge amount of surprise and delight to be gained from the detail. Below you can get a flavour for both with the 9 things, big and small, we learned at the 2018 Geneva Motor Show
9 things we learned at the 2018 Geneva Motor Show
Car designers love to check out their rivals' wares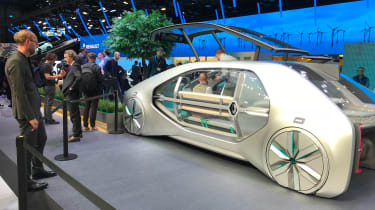 Motor shows are a unique opportunity to soak up the entire industry's plans for the next few years in a single day. They're also a great chance for rival car designers to keep an eye on what competitors are up to. This is Marc Lichte, head of design at Audi, checking out the Renault EZ-GO concept, which is designed by another heavyweight of the car design world, Laurens Van Den Acker. Who knows what he was thinking, probably; "maybe the wheels could be bigger".
Jeep's stand showed a brand in rude health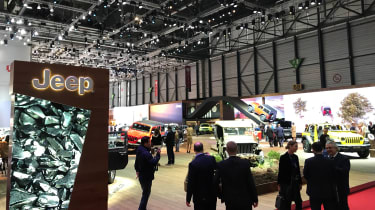 After describing Jeep's 2017 sales performance as "shameful" in January, FCA boss Sergio Marchionne now says he is "happy" with the 4x4 brand's 40 per cent sales growth so far this year. At the show Jeep got to enjoy the spoils of its success with a huge stand that dwarfed those of FCA's other brands. In fact, the mammoth Jeep installation was so large you could fit the Fiat, Alfa Romeo and Maserati stands all onto it with room to spare.
If we wanted to read anything into this, it would probably be that it's an indication of the high hopes the group has for Jeep in a European market that seems to be falling ever-deeper into its love affair with the SUV.
Incredible numbers are everywhere in the age of the fast EV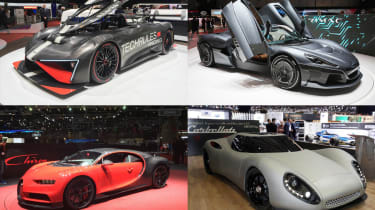 You knew where you were back when every car on the Geneva Motor Show stands had a tank full of fossil fuel and cylinders to blow it up in. The rise of the electric and electrically assisted car has thrown all of that up in the air and led to some genuinely astonishing power and performance figures - both real and claimed.
Partnership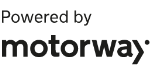 Need to sell your car?
Find your best offer from over 5,000+ dealers. It's that easy.
• Best cars of the Geneva Motor Show
The fact that Bugatti felt the need to introduce a sportier version of its 1,479bhp, 260mph Chiron hypercar at Geneva gives a hint of where the bar has been raised to. Indications of where things might be going came from the 1,888bhp all-electric Rimac C_Two with its 1.85s 0-62mph time and the Techrules Ren RS which apparently uses six electric motors to generate 7,722Nm or torque. We'll believe these mind-blowing figures when we see them on the road rather than a glossy spec sheet but there's no doubting electric car tech is having a big impact on the the market for fast cars as well as green ones.
You can't have too much carbon fibre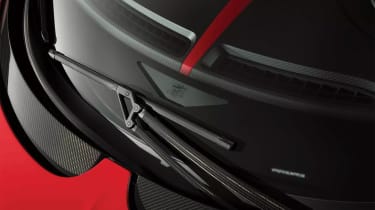 Carbon fibre is the car manufacturer's material of choice when it comes to saving weight so it's no surprise to find it used extensively on cars striving for greater performance and/or efficiency. It's so commonplace on modern high-end cars that the supply of new ways in which to use it appeared to be exhausted. Bugatti knew different, however, and delivered its new Chiron Sport to Geneva complete with the world's first set of carbon fibre windscreen wipers. We're told they save 1.4kg of weight and you can bet that they aren't cheap.
Toyota Auris was the dark horse of the show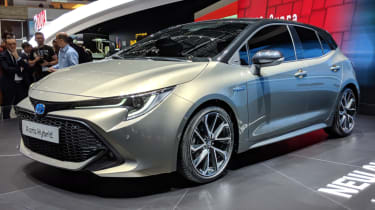 Trying to pick a star car from the avalanche of new metal that emerges at the Geneva Motor Show every year is never easy. This year was no exception but one car did stand out, and not just in the eyes of the overworked journalists on the ground. The new Toyota Auris was something of a Geneva Motor Show dark horse. A model line that has become a byword for automotive mediocrity appears to have thrown off the shackles with a bold new look and people really seem to like it.
If you don't believe us, believe the 50,000 people who viewed the Toyotoa Auris page on our website on Geneva's first press day and our poll of 1,200 readers that, after 24 hours of Geneva opening its doors, saw the Auris named as the show's star car ahead of the BMW M8 Gran Coupe, Audi A6, Jaguar I-Pace, Porsche Mission E Cross Turismo and others with 26 per cent of the vote.
Diesel is dead, unless it isn't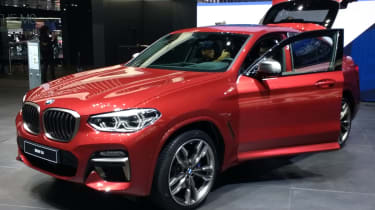 Just as electric cars have been touted as the future in recent times, diesel cars are increasingly being portrayed as the past. We never buy-in to this kind of hyperbole at Auto Express and any hope that the Geneva show would provide some clarity on the demise, or otherwise, of diesel was soon dashed. While Subaru announced it was ending production of diesel cars, BMW revealed the new X4 will only be sold as a diesel in the UK from launch and Ford showed off the Edge SUV which will have a similar range make-up.
Mercedes went even further in a pro diesel direction, exhibiting a new diesel plug-in hybrid powertrain in the C300de. By mixing diesel fuel economy and low CO2 over long distances with the low urban NOX emissions of a hybrid, this technology could address the problem with diesel while retaining its benefits. The hope must be that legislators leave the door open for manufacturers to innovate in this way, rather than rushing into restrictions that kill diesel while it still has something to offer.
A wing that can get everyone in a flap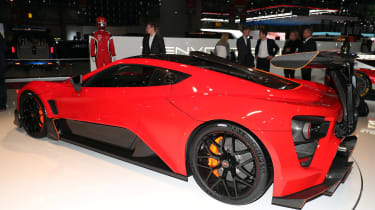 The vast rear wings on performance models from hot hatches to supercars are sometimes scoffed at for being an exercise in style over substance. That's an accusation you couldn't level at the bulky appendage on the Zenvo TSR-S. If anything, this is substance over style.
We've seen hypercars with active rear wings that serve as 'air-brakes' the help the car slow but Zenvo's also tilts from side to side on its hydraulic rams. It apparently helps to push the car into bends, maximising grip on the inside wheel and promotes flatter cornering. It's almost worth the $1.8m price tag alone.  
You can't buy class, but you can buy a reimagined classic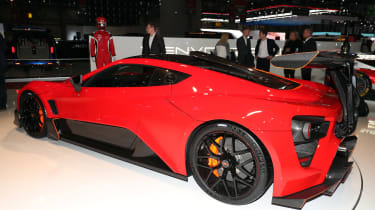 One thing you learn when working in the world of cars is never to underestimate the power of nostalgia. So it was at Geneva 2018 that in a hall full of glittering new cars representing the pinnacle of modern engineering and technology, people were still queuing up to gaze longingly at classic designs reimagined for the modern market - mostly with price tags that would have bought you a Caribbean island back when the models in question first saw the light of day.
From the Ferrari 430-engined MAT Lancia Stratos and the £620,000 David Brown Speedback Silverstone GT to the Meanie, a classic Mini with a mid-mounted 2.0-litre turbocharged engine packing 217bhp, there were no shortage of 'new' cars harking back to the good old days. More faithful recreations like the XJ6 created by Jaguar Classic for Iron Maiden's drummer were also available.
Surprisingly, there were very few surprises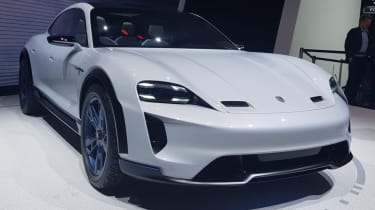 We live in the age of the spy shot, the teaser image and the online leak. Together they've contrived to almost completely remove the element of surprise from big motor shows like Geneva. As they board the plane bound for the Swiss capital, most journalists already have a very good idea of what they'll be seeing on the stands but there are usually a few closely guarded surprises loitering up manufacturer sleeves.
This year, not so much. Bugatti left it until a day or two before to tease us with a dimly lit video suggesting a hot Chiron might be on the cards and apart from that, only the Porsche Mission E Cross Turismo concept really came out of the blue. Possibly more surprising were the cars that didn't turn up at Geneva. There was no Cupra Ibiza and both the BMW M8 and Toyota Supra turned up in concept guise rather than full production car form. Vauxhall neglected to show us the new Combo Life van-based MPV too, but we'll forgive that one.
What was your highlight of the 2018 Geneva Motor Show? Let us know in the comments section below...