MINI John Cooper Works vs Rivals
The new MINI John Cooper Works aims to deliver a winning blend of power and thrills. Can it outmuscle key rivals from Honda and Renault?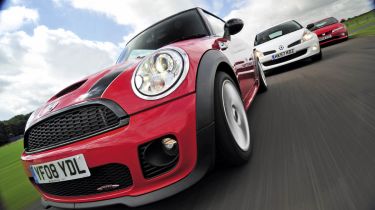 The power struggle is over: let the mind games begin! Over the past couple of years we've witnessed a battle of bhp in the hot hatch class – but now it's time for brains to triumph over brawn as pure fun and handling finesse are back at the top of the agenda.
And it's going to take some clever thinking to come out in front in our definitive hot hatch group test. The last MINI Cooper S to benefit from John Cooper Works know-how was one of the best-handling performance cars of its type, and its successor intends to deliver even more smiles per mile.
Unlike the old-shape model, the new machine is built in the factory alongside standard Cooper S variants. And it aims to turn the hatchback's driving appeal up to the max. To finish top of the class it will have to beat two very different competitors. Firstly, it must outwit our current champion: the Honda Civic Type R. The high-revving Japanese model is never shy of a challenge, and will not only stand up to the MINI on both road and track, but also offers practicality that's tough to beat.
Our second car delivers a pared-back, top-value package with maximum pace per pound. It's a manic performer for single-minded drivers – but can the Renaultsport Clio 197 Cup provide strength in depth at a bargain price?
We drive all three on fantastic British A and B-roads, as well as the tight twists of a go-kart track, to put the JCW through its toughest-ever test.
Verdict
With every hot hatch test that we carry out, the benchmark edges up… but this time the bar has been raised through the roof!
We have a new undisputed champion – the MINI John Cooper Works is a triumph for British-built performance models. It's the fastest and most flexible car here, while the handling is a revelation. The JCW shows that if you want the ultimate in hatch fun you need look no further than your local MINI dealer.
Second place goes to Honda's Civic Type R. Far from falling from grace, the Japanese model simply feels less manic, frantic and focused than the JCW – and less exciting as a result. However, its mix of practicality and thrills remains unbeatable, and on the right road it is still a great performance machine.
Can't afford either the Civic or the MINI? Don't worry. Thatis where Renault's white-knuckle-ride Clio Cup comes in. The thrills offered by the French model are simply unmatched at £14,995 – in any class. It hasn't got the breadth or depth of abilities of its rivals here, but choose the Renault and you can use the money you save to pay for two years' worth of petrol…