Nissan 370Z vs. rivals
Nissan's new 370Z roadster has landed! does it have what it takes to turn the tide of sales from Porsche and BMW?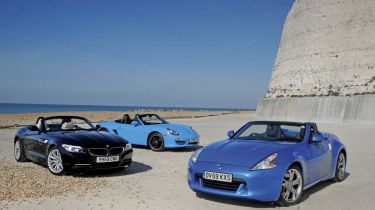 Summer is coming, so the Nissan 370Z Roadster could hardly have arrived at a better time. With an evocative history dating back to the 240Z of the late Sixties, the Z-car has a cult following. But is the newcomer set for mainstream success?
The Roadster adds an electric folding canvas top to the coupé version's tempting package of 3.7-litre V6 engine, six-speed manual gearbox and high specification. And it faces two very different rivals here.
With a folding metal hard-top, the BMW Z4 arguably has the roof most suited to the vagaries of British weather. And while it can't match the Nissan's power, performance isn't lacking. Its 3.0-litre straight-six engine and rear-wheel-drive layout follow the traditional roadster formula.
If you're after ultimate driving thrills, Porsche takes some beating, and the entry-level Boxster fits the bill perfectly in this company. The mid-engined model has a smaller powerplant and fewer luxuries than its competitors here, but timeless looks and legendary handling make it a force to be reckoned with.
There's only a few thousand pounds between our trio on price – so we test them in four key categories to find this summer's best two-seater...
The results 1. Porsche Boxster 2. BMW Z4 3. Nissan 370Z Roadster
Verdict
On paper, the Nissan should have this pair licked, but it comes up short in a number of key areas.
Interior quality can't compete with the Porsche or BMW, and while performance is strong, the way its punch is delivered leaves a lot to be desired. The V6 is coarse compared to rivals' units, plus the slow-operating fabric roof, stiff suspension and poor economy rank it last.
That leaves a straight fight between the Porsche and BMW, and it's the Z4 that has to settle for second place. Thanks to itscompliant suspension, the ride is comfortable, and a refined and well equipped interior adds to the appeal. The 3.0-litre straight-six engine is smooth and punchy, but the BMW doesn't inspire confidence like the Porsche. And its clever hard-top takes too long to operate and compromises boot space.
The only things to let the Porsche down are the meagre kit list and expensive servicing. The responsive engine, well balanced chassis, and tuneful exhaust note ensure it's the best driver's car. Surprising practicality, decent fuel economy and a fast-folding hood make it our favourite choice.