Best Five-Seat MPV: Ford C-MAX
The C-MAX has emerged from the shadow of the big-selling Ford Focus, and it deserves to take centre stage.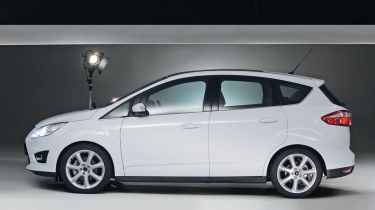 Why it won...
The C-MAX has emerged from the shadow of the big-selling Ford Focus, and it deserves to take centre stage. In five-seat form, the high-riding MPV looks as smart and drives almost as well as its hatchback cousin, and it's much more family-friendly, with extra rear space, a brighter cabin and a much bigger boot.
Lift the tailgate, and the C-MAX comes into its own, as its 432-litre boot comprehensively outguns the meagre 316 litres provided by the Focus, helping to make the compact MPV a brilliant family car.
The range includes a choice of five smooth and efficient engines, but the diesel models make the most sense and the 113bhp 1.6-litre TDCi engine is the most appealing of the lot, due to its efficiency and performance.
As with most Fords, the C-MAX drives rings around rivals thanks to its entertaining chassis, precise steering and agile handling, and the really clever bit is that its suspension still absorbs bumps brilliantly, so the Ford is both refined and comfortable.
If we have a criticism, it's that much of the advanced safety kit available on the new Focus isn't on offer – but this wasn't enough to put off our judges.
The question now is whether or not the C-MAX will be able to make it two in a row at next year's Awards. With the company's innovative new B-MAX waiting in the wings, its biggest rival could be another car from within the Ford family.
Our choice: 1.6 TDCi Zetec
The C-MAX doesn't have the biggest model range in the business, but it doesn't need it – because there's not a bad choice in the line-up. The 113bhp 1.6-litre TDCi is the best thanks to its low running costs and CO2 emissions of 119g/km.
Commended
Honda Jazz
The Jazz has evolved into a fantastic supermini-MPV, with brilliant build quality, tidy handling and smart looks. Factor in its superb packaging and innovative 'Magic' rear seats and you have a terrific car for young families – but avoid the overpriced and flawed Hybrid.
Hyundai ix20
Hyundai is on a roll and the ix20 is one of the models that helped to get it moving. Its cars are competitively priced and well equipped, but the ix20 is stylish, good to drive and spacious, too. A five-year unlimited mileage warranty cements its status as an extremely sensible buy.
Read our latest run down of the best MPVs