Ford Ka+ 1.2 Studio – cheapest cars to insure
The Ka+ sits below the Fiesta and owes much of its design language to its big brother, although importantly, it is cheaper to buy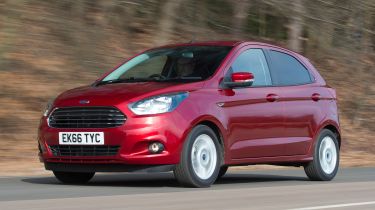 The Ford Ka+ is an excellent option for those looking for cheap motoring. Not only is in group 1 for insurance, but it is tried and tested as under the skin it is essentially and old Ford Fiesta.
On top of the reliability, it also means that some of the Fiesta's sporty handling makes its way into the Ka+, as does the relatively roomy proportions. That said, the boot and rear seats are smaller, but any reduction in dimensions will help with placement on the road.
On top of the low annual running costs, the Ka+ is amongst the cheapest new cars on sale in the UK. You will be limited for engine choice mind, as the range consists solely of a 1.2-litre four cylinder petrol in two outputs (69 or 84bhp), both of which return reasonable running costs and are more than happy to rev should you be that way inclined.
You will need to go for the 69bhp engine in Studio trim if you want to qualify for group 1 insurance. Moving up to Zetec trim with the same engine pushes it up to group 2, and adding the more powerful unit brings it all the way up to group 5.
Cheapest cars to insure 2019
Click the tabs on the top left of this page or the links below for full details on the cheapest cars to insure in the UK at the moment.