Ford Mondeo 2014: engine and technology details revealed
Ford has revealed more details of the engines and safety kit in the new Ford Mondeo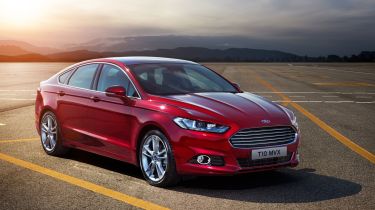 Ford has revealed a few new details about the all-new Mondeo; including the car's ability to spot pedestrians in the road and automatically apply the brakes. The engine range has been confirmed to include a hybrid and a 1.0-litre EcoBoost, too.
The pedestrian detection system works with radar and cameras, which cross-reference images against a database of 'pedestrian shapes'. If it spots a person in the road, the car will send a warning to the driver and then apply the brakes to help reduce the severity of an impact.
"The real world testing was crucial. Pedestrians come in all shapes and sizes, and adopt an infinite number of postures," said Gregor Allexi, active safety engineer at Ford of Europe.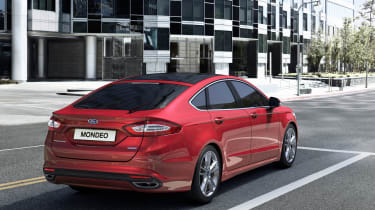 It works at up to 50mph, first sending an audible and visual warning, then priming the brakes and then if there is still no response, applying them automatically. The system can spot other vehicles, too, and can lessen or completely avoid accidents depending on the situation.
The new Mondeo's engine range will include 148bhp and 178bhp 2.0-litre turbodiesels, while there will also be a twin-turbo version of this unit producing 207bhp. Ford has revealed there will be a 1.6-litre diesel version, too, wearing the ECOnetic Technology tag, which should emit just 94g/km of CO2.
The three-cylinder EcoBoost engine is a first for the class, offering 123bhp and emissions of 119g/km. More powerful petrol options come in the form of a 158bhp 1.5-litre EcoBoost and a 2.0-litre EcoBoost producing either 201bhp or 237bhp.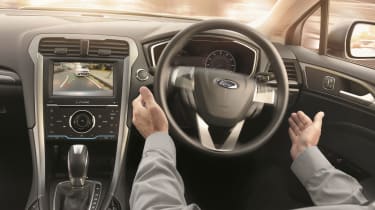 The Hybrid version pairs a 2.0-litre petrol engine with two electric motors; one to drive the wheels and another to provide regenerative charging under deceleration. Ford says the Hybrid will be capable of 99g/km.
The latest Mondeo also boasts class-leading driving dynamics, according to Ford, and is a lot quieter on the move. That's thanks to new seals, fewer holes in the body and more sound-deadening underbody protection, which reduce road noise. Wind noise is cut thanks to improved aerodynamics and thicker window glass, while powertrain noise has been lessened by adding better bonnet insulation and more seals.
Get full details on the 2014 Paris Motor Show and for another view on the new Ford Mondeo, check out our sister site Carbuyer.