Hyundai Ioniq PHEV - best plug-in hybrid cars
The Ioniq is available as a conventional hybrid, a plug-in hybrid and an all out electric vehicle. But the plug-in is the best all-rounder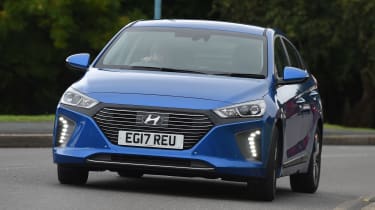 Thanks to its mixture of automatic transmission, electric assistance and ample power, the Hyundai Ioniq PHEV is a fantastic everyday car. The hybrid powertrain is made up of a 1.6-litre four-cylinder petrol, combined with an electric motor which results in a collective output of 139bhp.
During town driving the electric motor comes into its own and results in quiet and refined journeys. The cost of running the Ioniq should be low, thanks in part to the possible all-electric range which Hyundai states to be 39 miles and a combined economy of 256mpg.
In the real world, Auto Express' long-term Ioniq PHEV returned around 82mpg over the course of nearly 7,000 miles. CO2 emissions are incredibly low (as you would expect), with just 26g/km emitted.
The Ioniq is practical too, offering drivers 341 litres of boot space and a good mix of useful tech. There are just two trim levels on offer, but even the entry level with keyless entry, Android Auto, Apple CarPlay and wireless phone charging. If you factor in value for money, the Ioniq PHEV is one of the best mainstream hybrid cars on the road.
Top 10 best plug-in hybrids to buy now