McLaren Senna - Best hypercars
It's not the most powerful car in our list, but light weight and advanced aerodynamics put the Senna in the hyper club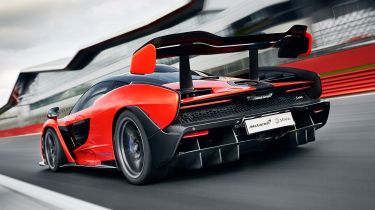 With an illustrious Formula One heritage, McLaren knows a thing or two about producing cars that offer extreme performance. And while the Senna doesn't have the ultimate power output or a hi-tech four-wheel drive system like some of other hypercars in our top 10, it still has the ability to run rings around most of the other cars on the list.
It's devoid of the hybrid trickery of the earlier McLaren P1, too, but the Senna was designed to cut through the air like no other road car. While it may have some awkward lines, the aerodynamic, lightweight carbon fibre construction throughout means the weight is kept down to around 1,200kg, giving very little mass for the 789bhp, 800Nm 4.0-litre twin-turbo V8 to work against. That means it's capable of 0-62mph in 2.8 seconds, can manage 0-124mph in 6.8 seconds and will top out at 208mph.
This may not seem as impressive as some other hypercars in the top 10 list, but then the chassis is designed to deliver searing cornering performance, and the adaptive suspension can be set up to make the Senna corner like no other road-registered car on sale today. One area where the Senna is on a par with its hypercar brethren is price: at £750,000, it's a track car that only the super-rich can afford.
Best hypercars