Mitsubishi Outlander PHEV - best plug-in hybrid cars
The first plug-in SUV proved the formula worked, and boosted sales for the range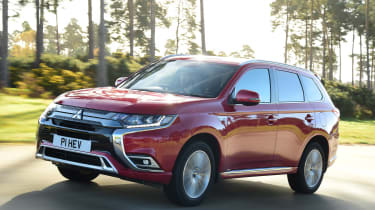 The Outlander PHEV set the template for the plug-in hybrid SUV. Its large dimensions mean there's room for the hybrid running gear without compromising passenger space as a five-seater, while integrating the petrol engine and electric motor mean it's far more refined than the diesel Outlander.
As the Outlander PHEV was first to the party, its blend of low running costs, space and cheap company car tax rates meant it boosted Outlander sales beyond expectation. But now rival manufacturers are cottoning on to the appeal of plug-in hybrids, and the Outlander PHEV's star is beginning to wane as a result.
While all models are well equipped, build quality isn't quite on a par with the best in the class. However, keep it plugged in every time you charge it, and the Outlander PHEV will deliver miles of trouble-free electric running, so you'll barely ever need to visit a filling station.
Top 10 best plug-in hybrids to buy now