Nissan Note gets new 360-degree safety kit
The new Note will get a 360-degree camera and a Safety Shield system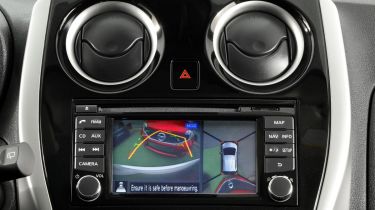 The new Nissan Note will get a selection of safety kit that gives drivers all-round vision to help make manoeuvres easier and safer.
A first in the small car market, the Around View Monitor uses four cameras on the car (one on the front grille, one in each door mirror and one in the rear windscreen) to give drivers a full 360-degree birds-eye view of the car. This is then displayed on the car's 5.8-inch screen.
The rear convex-lens camera also provides the car with blind spot monitoring, lane departure warning and moving object detection. All three of these combine as Nissan's so-called Safety Shield.
Despite being mounted at the rear windscreen, it gives 180-degree visibility. This means that if another vehicle is detected in the car's blind spot it will alert the driver with a light in the Note's wing mirror.
It also works in a similar way for the lane departure warning, and will detect if the car is veering out its lane without the driver signalling and will alert them to correct their driving position. This then adapts its sensitivity on rural roads to allow the change in driving style.
Finally, for the moving object detection it works in a similar way to a standard parking sensor, but an audible and visible alert will warn the driver of a moving object, like a child walking behind the car.
The rear camera is also self-cleaning, firing a small jet of water over the lens and drying it with a burst of compressed air to ensure a clean image.
Production of the new Nissan Note is set to begin in this summer, with first deliveries starting this autumn.