Porsche 718 Cayman/ 718 Boxster - best performance cars
Switch to four-cylinder power hasn't failed to dilute the Porsche 718 Cayman's excellent driving experience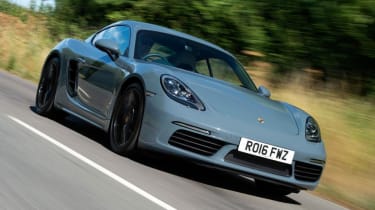 To call the 718 Cayman the poor man's Porsche is to do the car a great disservice. The Cayman manages to deliver the kind of sure-footed handling fun that makes any driver feel like a natural behind the wheel.
The latest model has switched to a turbocharged flat-four engine, but while it doesn't sound as thrilling as the old flat-six, it hasn't done anything to spoil the driving experience. The car's mid-engined layout is perfectly balanced, with fluid steering and lots of confidence-inspiring grip.
Even better is the fact the Cayman is such a useable car, and there's no doubt that you could use it on a daily basis. And while the initial purchase price will be high, everyday running costs are surprisingly agreeable for one of the best open-topped sports cars on sale. And if you fancy having the wind in your hair, the convertible 718 Boxster is just as much fun.
Top 10 best performance cars 2010