SEAT Leon Cupra - best hot hatchbacks
Constant development keeps the SEAT Leon Cupra in contention among fierce hot hatch competition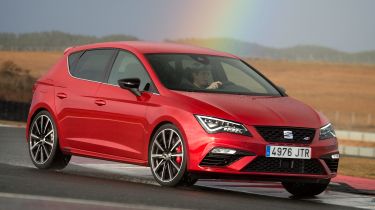 Fast, fun, practical and cost effective, the scorching SEAT Leon Cupra is a great all-rounder. For starters, the rorty 296bhp turbocharged 2.0-litre engine delivers electrifying acceleration, while the uprated suspension and electronically controlled front differential provide agile and engaging handling.
Sporty exterior upgrades mean the Leon looks the part, and the option of a five-door model ensures that practicality doesn't suffer. It's great value, too, undercutting its rivals on price.
The SEAT has plenty of grip in the corners and the steering is precise, with great brakes as well to give extra confidence. It's comfortable too – although the ride is a little firm, it copes with all but the most severe bumps in the road well.
Top 10 best hot hatchbacks
7. SEAT Leon Cupra
8. Audi RS 3
9. BMW M140i