Can you tow with an electric or hybrid car?
The towing capacities of electric cars can vary greatly with many not approved for towing at all, but hybrids are well suited to towing caravans or trailers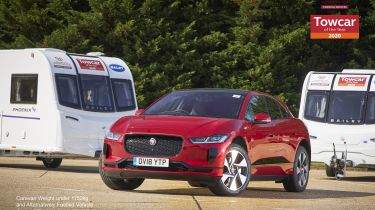 Camping and caravanning are popular pastimes, but if you plan on using an electric car to tow your trailer tent or caravan, you need to tread carefully. Most electric cars are not type-approved for towing and the towing capacities of those that can officially tow trailers vary greatly from model to model.
A few electric cars are rated to tow as much as equivalent petrol or diesel cars and the abundant torque generated by electric motors makes them adept in the tow car role. It's a similar story with plug-in hybrid models which are far more likely to be approved for towing and have similar advantages in terms of pulling ability.
If towing is a major part of your motoring life you needn't exclude electrified vehicles completely from your shopping list, but make sure you do your research before taking the plunge so that you fully understand what each vehicle can tow safely and legally before you buy.
Why are many electric cars not suitable for towing a caravan?
There are several reasons why electric cars aren't approved to tow or can't tow very much, but the biggest one is type approval: a process that every model has to go through before it can be sold. In that process, makers decide whether to approve the vehicles for towing or not – and many electric cars simply aren't approved for towing.
There are some very good reasons for this. Chiefly, the extra weight of a caravan could cause the car's motors and brakes to struggle. Electric cars are already heavier than conventional vehicles, placing more strain on some parts, and a speedboat hitched on the back would add to this. Then there is the issue of regenerative braking systems which slow electric cars quickly to recapture kinetic energy as electricity and charge the battery. The more extreme settings of these systems might cause a trailer to behave in an unexpected way when the car slows as a result of the driver lifting off the throttle.
What's also certain is that hitching a caravan on to the back of an electric car will reduce the car's overall potential range significantly.
As a result of all this, towing capacities for electric cars vary greatly. Very few electric vehicles are certified for towing very heavy caravans or trailers. The Tesla Model X is an exception as this SUV can tow an impressive 2,270kg, and Tesla has built it with a 'trailer mode', which shuts off some of the car's drive-assistance features that wouldn't work as well with a trailer. An Audi e-tron can manage a respectable 1,600kg, a Jaguar I-Pace can tow 750kg and there are other electric car options out there that can also tow.
Can plug-in hybrids tow?
According to the Caravan and Motorhome Club, hybrids are the best choice for anyone who wants to use an alternative-fuel vehicle for towing a caravan. They have the best combination of performance and economy when towing.
In fact, there have been several plug-in hybrid vehicles certified for towing, including the Mitsubishi Outlander PHEV, Volvo XC90 T8, Volvo XC60 T8 and Audi Q7 e-tron.
The Volvo XC60 T8 has a 2,100kg limit, while the Porsche Cayenne e-Hybrid manages up to 3,500kg.
Smaller models like the Audi A3 Sportback e-tron and the VW Golf GTE (now only available as used cars) can tow up to 1,600kg. And, while the Toyota C-HR and Prius hybrids are certified for towing, their limits are even smaller – just 725kg in the Prius.
Now take a look at the best plug-in hybrids on sale today...