Toyota Safety Sense auto braking now on Aygo and Yaris
Toyota's smallest models now available with optional safety kit, including auto braking and lane departure warning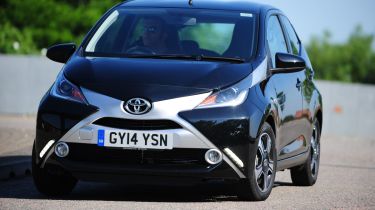 Toyota Safety Sense – including automatic emergency braking and lane departure warning – is now available on the Aygo city car and Yaris supermini. Following the introduction of the system in the Avensis and Auris earlier this summer, Toyota has announced the technology will now be available as an option on the smaller models in its range.
The Safety Sense package will bring major safety updates to the Aygo and Yaris. Toyota's Pre-Collision System (PCS) will alert the driver when the car detects an imminent impact. If the driver responds with the brake, the Pre Crash Brake Assist will provide extra stopping power. If not, Autonomous Emergency Braking will slow the car down by around 19mph (with no driver input) in order to reduce the impact of the collision, or avoid it entirely.
Lane Departure Warning is another feature of the Safety Sense pack, and will provide visual and audible warnings to the driver should the car begin to stray out of its lane.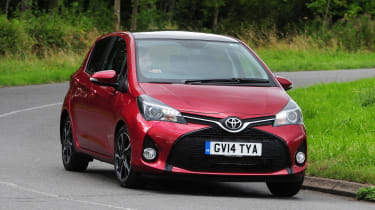 In addition to this, the larger Yaris supermini will get Automatic High Beam technology. By monitoring the road ahead, the system switches automatically between high and low beam, ensuring the driver's visibility is maximised without dazzling fellow road users.
Safety Sense is available now as an option for all new Aygo models (except the base 'x-grade' variant) and all Yaris models other than the 'Active' grade. For the Aygo the package will cost £375; it's £400 for the Yaris.
Toyota claims some of this outlay could quickly be recovered, however, as it says cars fitted with Safety Sense will attract lower insurance premiums.
Would you pay to have the optional Safety Sense technology on your car? Let us know in the comments below...