Toyota GT 86 - Best track day cars
Toyota's fun-but-affordable coupé focuses on driving thrills rather than ultimate performance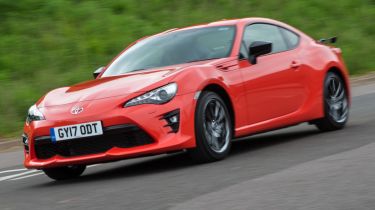 Price: £26,855
Toyota's fun-but-affordable coupé focuses on driving thrills rather than ultimate performance, so on the track you'll revel in its engaging rear-drive chassis, fast steering and sturdy mechanicals.
Powered by a 2.0-litre 197bhp Boxer engine, the Toyota GT 86 isn't the most powerful sportscar on the market - especially when you compare it to the similarly priced 324bhp Nissan 370Z, which also gets a front-engine, rear-wheel-drive lay out - but its low weight and excellent handling make it massively fun to drive.
The Toyota GT 86 is available with either a six-speed manual or six-speed automatic gearbox (go for the manual), but there's another choice you could go for. The Subaru BRZ is an identical car, so buyers have the luxury of choosing which dealer they'd prefer to buy from and which badge they'd like on the bonnet.
The Audi TT is also an alternative to the Toyota GT 86 and the Subaru BRZ but the low price of the both of the 'Toyobaru' cars means they're better value. The Subaru BRZ has near as makes no difference the same price starting price than an entry level Toyota GT 86, but it of course has more exclusivity. Toyota, however, has a wider dealership network should anything go wrong.
Best track day cars 2018
8. Toyota GT 86
9. Ariel Atom
10. BMW M4 CS