Volkswagen Beetle production finally ends
The very last Volkswagen Beetle has rolled off the production line at Volkswagen Mexico's facility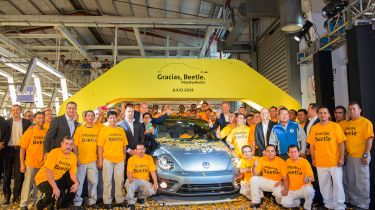 The Volkswagen Beetle has ended production. The iconic car has been a staple of Volkswagen's line-up since 1945, racking up more than 21 million sales worldwide across its three generations. The last ever model rolled off the firm's production line on Wednesday 10th July in Puebla, Mexico.
The Puebla plant will soon be reconfigured to produce a new, North American market-focussed compact SUV which will slot into Volkswagen's line-up below the current Tiguan. The final Beetle, which features a custom dashboard and quilted seats, will live on a commemorative display at Volkswagen's museum local to the factory.
• Volkswagen Beetle Dune review
The first-generation Volkswagen Beetle "Type 1" survived a 58-year production run, with the final example rolling off the line in 2003. The last examples remained faithful to the original model, (with the exception of fuel injection and disc brakes), sharing the first Beetle's classic styling and rear-mounted air-cooled engine.
In 1998, Volkswagen released the second-generation "New Beetle" in Europe and gradually phased out the long-lived Type 1 in Mexico and South America. It shared its underpinnings with the Mk4 VW Golf and was an early adopter of "modern retro" design, predating the BMW MINI by two years.
The second-generation model was discontinued in 2010, by which time more than 1.2 million examples had been sold. It was replaced by the third (and final) generation Beetle in 2011. Based on the Mk6 Golf, it was available in hardtop and convertible body styles and was offered with a wide range of customisation options.
Since the second-generation variant, production was handled entirely by Volkswagen's Puebla facility, which supplied cars to 91 markets worldwide. Scott Keogh, CEO of Volkswagen America, summarised the passing of the Beetle saying: "It's impossible to imagine where Volkswagen would be without the Beetle.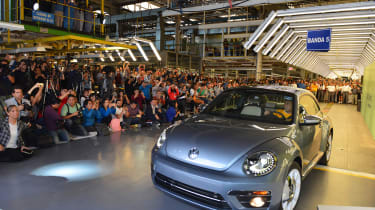 "From its launch in 1949 to today's retro-inspired design, it has showcased our company's ability to fit round pegs into square holes of the automotive industry. While its time has come, the role it has played in the evolution of our brand will be forever cherished."
Potentially, Volkswagen could revive the Beetle nameplate in the future with a new, retro-inspired all-electric model, based on the same modified MEB underpinnings as the I.D. Buggy. Official plans are yet to be confirmed, but the new Beetle could be a more authentic representation of the original car, with a rear-mounted electric motor and rear-wheel-drive.
Will you mourn the passing of the Volkswagen Beetle? Let us know in the comments section below…