Volkswagen Crafter - best large panel vans
The Volkswagen Crafter brings VW Group technology and quality to the panel van sector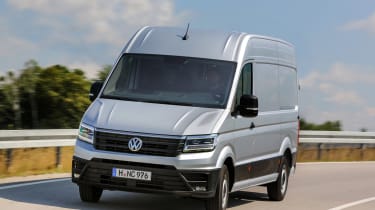 The VW Crafter takes the formula of the T6 Transporter and super-sizes it. There's the same level of quality inside, and like the Transporter it uses the same tech you'll find in the VW passenger car range. That means adaptive cruise control and lane assist are on offer, while self-parking including trailer assist is also available.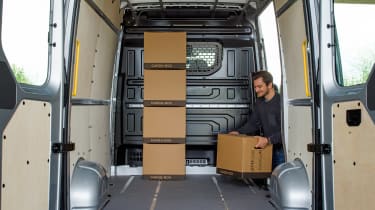 The Crafter is surprisingly car-like to drive, too. It feels nimble and handles well for such a large van, while still offering the high driving position and clear view of the road ahead that these machines are known for. You can even specify a truck-style sprung seat for greater long-distance comfort.
Like the Sprinter, there are diesel engines offered to make light work of the heaviest payloads, while different van lengths and roof heights are offered. There are Crew Cab pickup and tipper variants, too, while the Crafter-based VW Grand California is the biggest off-the-shelf motorhome you can buy.
Soon you'll also be able to get a zero-emissions VW e-Crafter for doing local deliveries, with a range of 60 miles easily achievable from a full charge.
Best large panel vans 2019
2. Volkswagen Crafter
3. MAN TGE
4. Ford Transit
8. Fiat Ducato
9. Iveco Daily
10. LDV V80