Volkswagen Golf review - MPG, CO2 and running costs
Mild-hybrid petrol engines help boost efficiency, while improved diesel units offer buyers lower emissions and more range.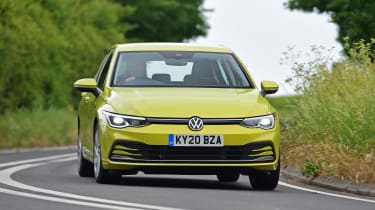 1/14
Volkswagen has introduced many features to improve on the Golf's green credentials. Mild-hybrid versions, stop-start systems and small-capacity 1.0-litre engine options all feature in the model line-up and should help customers make important cost savings.
Company car users will be particularly taken with the diesel economy figures - the 2.0 TDI 113bhp version manages a fuel-sipping 68.9mpg in entry-level Life trim and, while you might not reach that number in every day driving, you certainly won't be a regular at the fuel station. Emissions are cleaner, too, with the same base car emitting from 107g/km of CO2. The 148bhp oil-burner still offers terrific range, with a claimed 64.2mpg maximum and CO2 emissions from 116g/km.
The petrol cars provide an interesting mix. Delivering a claimed maximum of 53.3mpg, the 109bhp 1.0-litre unit has identical fuel consumption to the 128bhp 1.5-litre version. With both emitting 121g/km of CO2 and just £600 separating them on the price list, it would be odd not to opt for the extra boost in power.
The 148bhp eTSI variant comes with a seven-speed DSG automatic transmission, but can't match the fuel economy of the standard 1.5 TSI with its six-speed manual gearbox. Claimed maximum figures are 49.6mpg and 50.4mpg, with CO2 emissions of 129g/km and 124g/km, respectively.
Insurance groups
Insurance premiums for the Golf shouldn't be too expensive. The 1.0-litre petrol Life version is in group 14, while the 1.5 TSI 148bhp variant occupies group 20. The 1.5 eTSI is a little higher at group 21, with the top-spec 2.0-litre diesel sitting in group 23.
Depreciation
A used Golf normally holds onto its value fairly well, but in the Mk8 range there are some models which perform better than others. Data suggests there is a three-way split between petrol, mild-hybrid and diesel cars, with residual values (after three years and 36,000 miles) of 47%, 45% and 43%, respectively.
Customer confidence in diesel power has taken a hit in recent times, and private buyers may be put off from choosing an oil-burner, particularly as Volkswagen intends to roll-out further mild-hybrid models across the Golf range. Diesel may still make sense for fleets and those doing high mileages, though.