Volvo S90 Coupe for 2020
A coupe version of the new Volvo S90 saloon could rival the BMW 6 Series when it arrives in 2020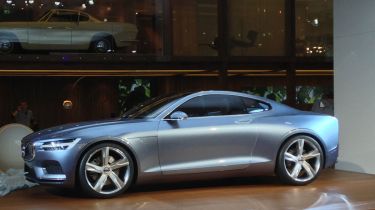 Volvo has hinted at its desire to look at coupes and convertibles once it has fully refreshed the current model range – likely towards the end of the decade.
Speaking with Auto Express at the S90 reveal event in Gothenburg this week, Volvo's senior vice president of design Thomas Ingenlath sketched out the company's five-year plan.
"First we'll roll out the 90 cluster, then we'll roll out the 60 cluster. Then even that new [all-electric] product – and as everyone knows by now, an XC40 as well. All this we want to manage within a four-year period.
• New 2016 Volvo S90 targets executive car top spot
"In 2019, the XC90 will be the oldest car in our range."
He told us the trio of concept cars previewed at Frankfurt, Detroit and Geneva in 2013 and 2014 would "carry [Volvo] quite far". The XC Coupe has already transformed into the new XC90, while the Concept Estate will be revealed at the V90 at the Swiss show in March. The Concept Coupe, however, will take a little longer.
Ingenlath suggested a production-ready car would arrive almost unchanged in 2020. When asked if Volvo would produce another Coupe concept later down the line, he said: "We had the chance to do that in the two years before XC90 came out. We wouldn't be allowed to do that now."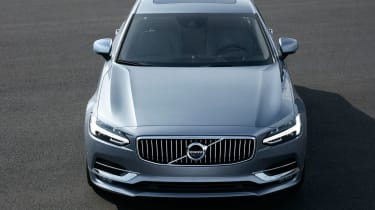 But anything bigger than an S90 Coupe is officially off the cards. We asked the design VP how far the SPA architecture could be stretched, and whether the brand had plans for a Mercedes S-Class-rivalling limousine. 
"The flexibility of SPA would easily allow for something like a coupe. When you talk about S-Class, we need to look at S90 and its competitors. That is as big as Volvo can go."
A new Volvo S90 Coupe would rival cars like the BMW 6 Series and Mercedes E-Class Coupe, with prices from around £40,000. It'd likely get a range of powerful four-cylinder petrol and diesel engines, as well as a T8 plug-in hybrid. If Volvo's push for all-electric models comes true, we may see a pure EV, too.
As is the case with Mercedes and BMW, a drop-top version would be a logical next step, though bosses refused to speculate on what may arrive further down the line.
What do you think about Volvo's future plans? Leave us a comment below...