Best cars: 20 to 11
It's a strong start for new models from Nissan, BMW, Hyundai, Ford and Toyota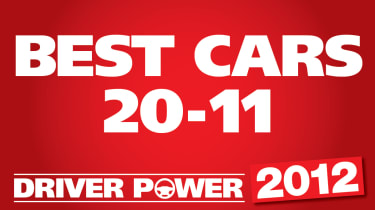 20. Toyota Avensis MkIII 
Overall rating: 87.29%Years of manufacture: 2009-presentPrevious results: The Avensis MkIII hasn't appeared in previous surveys
While the MkII Avensis continues to make an impression on the used market in 51st place, the third generation enters the chart 31 places higher. A fine 15th place for reliability and build helps to explain the latest car's strong debut, plus owners are clearly satisfied with the space offered by estate and hatchback models. They're equally comfortable inside thanks to good ergonomics and a smooth ride. Only average performance and handling prevent the Toyota from charting higher.
19. Ford Focus MkIII 
Overall rating: 87.44%Years of manufacture: 2011-presentPrevious results: The Focus MkIII hasn't appeared in previous surveys
A solid debut for the latest Ford Focus. Anything that sells in vast quantities will often get a rough ride in Driver Power, as many fleet drivers find themselves behind the wheel of a model they didn't actually choose. Not so the Focus, which has blown owners away with its fantastic handling and faultless ride. Running costs are also low, while features such as Bluetooth, sat-nav and digital radio have contributed to a solid 16th place in our new technology category.
18. Hyundai ix35 
Overall rating: 87.47%Years of manufacture: 2010-presentPrevious results: The ix35 hasn't appeared in previous surveys
Now well established as a manufacturer of class contenders rather than also-rans, Hyundai has produced another model that gets the thumbs-up from drivers. The ix35 aims to offer the high driving position and sense of adventure of a 4x4 without the associated running costs. These results suggest that the compact SUV is meeting its brief, offering decent value and lots of technology. A little work on the chassis set-up to improve handling could be all the Hyundai needs to climb even higher.
17. Toyota Prius MkII 
Overall rating: 87.63%Years of manufacture: 2003-2009Previous results: 2007/NR 2008/10 2009/25 2010/NR 2011/9
Mention petrol-electric hybrid powertrains and it's not long before someone asks the question: what happens when it goes wrong? In the case of the previous-shape Toyota Prius, the answer seems to be that it doesn't. An excellent ninth place for reliability and build is backed up by a fine fifth position in the running costs chart. It looks as if drivers are reaping significant real-world fuel savings when the electric motor kicks in and the petrol engine takes a break.
16. Jaguar S-Type 
Overall rating: 87.66%Years of manufacture: 1999-2008Previous results: 2007/25 2008/9 2009/19 2010/10 2011/27
If you think you have to pay a six-figure sum for the smoothest ride on the market, you're mistaken. In a triumph for the second-hand market, the Jaguar S-Type recorded some fantastic reviews from its owners, the highlight being first overall in the ride rank. This is complemented by runner-up spots in the comfort, driving and performance categories. The only drawbacks to S-Type ownership are some poor practicality and reliability ratings, and that this excellent car is so expensive to keep on the road.
15. Hyundai i30 
Overall rating: 88.03%Years of manufacture: 2007-2012Previous results: 2007/NR 2008/NR 2009/NR 2010/1 2011/9
Memories of the Hyundai i30's first place overall in 2010 are beginning to fade, as it slips further down the chart in 2012. But 15th place is still very impressive. With great reviews for build and reliability, plus the car's hi-tech kit, there's still plenty for the company to be proud of. The MkI has just come to the end of its production run, with the all-new version going on sale in the UK in March. Hyundai will have high hopes for the next-generation model in Driver Power 2013.
14. Mercedes E-Class MkIII 
Overall rating: 88.09%Years of manufacture: 2002-2009Previous results: 2007/14 2008/3 2009/8 2010/8 2011/8
After three eighth places in a row, the previous-generation E-Class is finally on the way down. Yet with five top-10 category positions and one top five, the big Mercedes remains a fine used purchase. The fact that production ceased three years ago explains why the old-shape E-Class manages only 35th in the new technology chart – a result that accounts for its six-place fall. Drivers are also starting to tire of the slightly outdated handling, as well as the steep running costs.
13. Nissan Juke 
Overall rating: 88.21%Years of manufacture: 2010-presentPrevious results: The Juke hasn't appeared in previous surveys
You can't miss the Nissan Juke – especially when it makes its Driver Power debut in an enviable 13th place. Owners of the bold British-built model are over the moon with their supermini substitute. Top of the bill is a fantastic first place in the new technology class. With high-spec versions getting an advanced dashboard-mounted screen showing a range of information, including cornering G-force, the Juke is a gadget junkie's dream. A poor 67th for practicality is the only blot on its copybook.
12. Honda CR-V MkIII 
Overall rating: 88.29%Years of manufacture: 2006-presentPrevious results: 2007/NR 2008/NR 2009/14 2010/21 2011/29
Bouncing back towards the sharp end of the Driver Power chart is the Honda CR-V. With solid build quality and superb reliability, the four-wheel-drive model doesn't seem to go wrong often. It's comfortable and practical, too – just like a compact SUV should be, with smooth suspension and a great view of the road ahead. The handling won't win any awards and its running costs are above average, but overall this Honda can be proud of its performance.
11. BMW 5 Series MkVI 
Overall rating: 88.29%Years of manufacture: 2010-presentPrevious results: The 5 Series MkVI hasn't appeared in previous surveys
While most manufacturers would be happy to see their latest and greatest model in 11th, BMW will be disappointed to miss out on the top 10. The company's new 5 Series has proven a fantastic executive saloon and estate. A fine sixth position for build and reliability underlines the quality of this hugely desirable model, while the confidence-inspiring brakes are also highly praised. The only downside is practicality: owners would welcome a roomier cabin and larger boot.