Best cars: 60 to 51
Lots of new entries, with everything from the Discovery 4 to the i10 making their debuts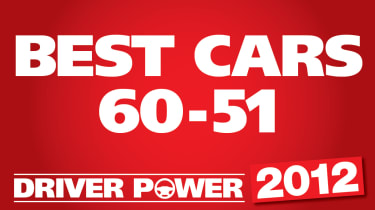 60. Audi A4 MkIV 
Overall rating: 84.47%Years of manufacture: 2007-presentPrevious results: 2007/NR 2008/NR 2009/NR 2010/39 2011/36
Also falling fast is one of the most popular compact executive models on the market. The Audi A4 has recently been revised to keep it fresh in the face of stiff competition, and the views of owners suggest the changes couldn't come soon enough. Lacklustre ratings across the board have prevented the A4 from making a big impression in many of your judging categories. Thankfully, it's proving to be tough and durable, but Audi will be praying for better reviews this time next year.
59. Hyundai i20 
Overall rating: 84.59%Years of manufacture: 2009-presentPrevious results: The i20 hasn't appeared in previous surveys
The i20 makes its first Driver Power appearance, but hasn't quite managed to reach the top half of the chart. Some elements of Hyundai's supermini meet expectations – bills are kept to a minimum, while the i20 delivers a great amount of technology for the money. However, owners complain that the car isn't as easy to drive as it should be, and it's certainly not as comfortable as many had expected. This set of scores lays out some pretty clear objectives for the next-generation model.
58. Mazda 3 MkII 
Overall rating: 84.72%Years of manufacture: 2009-presentPrevious results: The 3 MkII hasn't appeared in previous surveys
While Mazda would have hoped to see its compact family car zoom-zooming to the top of the Driver Power charts in its debut year, it will have to make do with 58th place. The well built hatchback is proving to be reliable, but some low marks in the running costs ranking point to some bigger-than-expected monthly motoring bills for 3 owners. The good news for Mazda is that the car marketed as a sharp-driving five-door is rated as one of the best-handling choices in the Top 100.
57. Hyundai i10 
Overall rating: 84.72%Years of manufacture: 2008-presentPrevious results: The i10 hasn't appeared in previous surveys
Another Hyundai making its first Driver Power appearance is the i10, which has impressed us since its launch in 2008 with its spacious cabin, great value and likeable character. Living with one every day has revealed some flaws – namely the lack of comfort. Add ride quality that struggles on broken tarmac, and long-distance trips have proven a chore for many i10 owners. We expected a higher rating for running costs as well: 24th isn't bad, but saving cash is what this little Hyundai is all about.
56. Kia Cee'd 
Overall rating: 84.75%Years of manufacture: 2007-presentPrevious results: 2007/NR 2008/NR 2009/6 2010/23 2011/14
Kia is used to climbing our Driver Power chart, so a drop of 42 places will hurt. What's changed for the Cee'd in a year then? Ratings are down across the board, but it's the performance and handling which have really begun to irritate drivers. A firm ride and poor comfort have also had an impact on the car's overall average rating. At least Kia can take comfort in the knowledge that the next-generation Cee'd is just around the corner – and it's already impressed in our drive earlier this year.
55. Audi A1 
Overall rating: 84.79%Years of manufacture: 2010-presentPrevious results: The A1 hasn't appeared in previous surveys
We have more new entries in this year's Driver Power chart than ever before, and here's another. The A1 has brought the Audi brand within reach of a whole new group of buyers, but they should study this scorecard before taking the plunge. The A1's compact size has taken its toll on cabin and boot space – only three other cars got lower practicality scores – plus comfort and ride quality leave a lot to be desired. Still, the car is a breeze to drive and has some of the best brakes in the business.
54. Jaguar X-Type 
Overall rating: 84.79%Years of manufacture: 2001-2010Previous results: 2007/55 2008/37 2009/73 2010/42 2011/49
The fact the Jaguar X-Type has yet to be replaced will be a source of frustration for many Jaguar drivers. The compact executive saloon and estate was far from class-leading towards the end of its nine years in production, but its strong performance, smooth ride and decent handling continue to impress. A small boot and cramped interior hamper practicality, while running costs are as high as you expect from a Jaguar. But strong used values tell you why this is one of the most popular second-hand Jags.
53. Audi A6 MkIII 
Overall rating: 84.81%Years of manufacture: 2004-2011Previous results: 2007/18 2008/22 2009/52 2010/32 2011/39
Does the arrival of a new car highlight the outgoing version's drawbacks? When a model is replaced, it often slides down the Driver Power rankings, and this is the case for the old-shape Audi A6. While the latest car's efficient engine range brings fuel and tax bills right down, owners tell us the previous generation costs more to run than they budgeted for. The MkIII A6's handling also comes in for some stick, with the front or four-wheel-drive exec struggling to match its rivals for agility.
52. Land Rover Discovery 4 
Overall rating: 84.84%Years of manufacture: 2009-presentPrevious results: The Discovery 4 hasn't appeared in previous surveys
Plot the latest Discovery's Driver Power scores on a graph, and you'd get an alpine profile. The seven-seater's versatility is beyond compare, leading to a gold medal in the practicality chart. The quality of the cabin design is also underlined with a fantastic fourth place for comfort, plus it comes second for ride quality. So how has the Land Rover ended up in 52nd position overall? Worryingly, it's slipped to 93rd place for reliability and build and finishes a disappointing 99th in the running costs ranking.
51. Toyota Avensis MkII 
Overall rating: 84.95%Years of manufacture: 2003-2008Previous results: 2007/27 2008/28 2009/47 2010/58 2011/63
The second-generation Toyota Avensis is proving a hit on the used market, and finishes an impressive 51st this year – ahead of some far more expensive factory-fresh family cars. Crucially for a second-hand hatchback, the Avensis has managed an excellent 22nd place for reliability and build. Plus, the massive boot and spacious cabin elevate the old Toyota to 20th position in the practicality rankings – so you can see why it's ticking all the right boxes with owners.