Fastest depreciating cars: top 10 worst motoring money pits
Almost every new car depreciates, but some shed value faster than others. These are the top 10 fastest depreciating cars on sale today
Forget miles per gallon or insurance, the biggest cost of running a car is depreciation, otherwise known as the difference between the new on-the-road price and the figure achievable when selling a car to its next owner. That second-hand price is also known as the car's residual value, and if you're not careful it can be a real sting in the tail of any new car deal. Here we're looking at the worst depreciating cars on the market, both in terms of percentage retained value and total value lost.
People like to joke about cars losing half their value the moment they're driven off the forecourt but that's rarely actually the case. Most cars will take a couple of years or more to lose half their value, while some rare, exotic or limited production models may even rise in value – or appreciate – but, of course, that's not the experience for most new car buyers.
• Car depreciation: the cars that hold their value best
Still, there's a vast range of depreciation performance across the new car spectrum. Typically a strong performer will lose comfortably less than half of its value over a three-year/36,000-mile ownership cycle, while a poor depreciator can easily lose three-quarters of the on-the-road price over the same timeframe.
As you'd expect, the best depreciators are the cars in strong demand, with desirable badges and good reputations for reliability, quality and safety. They suffer little discounting when new, and hold their money at resale time.
In contrast, the worst depreciators are those bread and butter models from mainstream brands whose badges offer little in the way of aspirational value, and whose reputations for quality or performance are not in the same league as the 'in demand' brands.
So at one extreme, there are limited-edition supercars, in-demand SUVs and rare performance cars which can appreciate over time and in some cases be considered long-term investments. At the lower end, there are absolute stinkers that will lose money hand over fist. Of course, if you're looking for a used car, then a dreadful depreciator could be just what you need to get maximum bang for your buck. For the original purchaser though, depreciation can be an expensive disaster.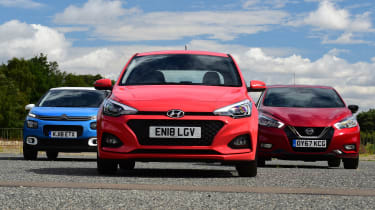 To help you avoid these mobile money-pits we've combed the data from used car valuation experts at VIP Data to create a list of possible new car purchases with the biggest sting in the tail - the UK's fastest depreciating cars.
So here they are - the disastrous depreciators you shouldn't touch with a bargepole if you want to save your cash, as predicted by the experts.
To keep things simple, we've only compared the worst-performing specification for each of these depreciation duffers. We've ranked them according to the predicted percentage of their new price they retain after a typical 3-year/36,000-mile ownership period.
At the bottom of the page you'll find a second list of the biggest depreciating cars by actual cash lost. Predictably, these tend to be luxury and performance models that cost a whole lot more to start with...
Britain's worst depreciating cars
Below are the top 10 worst depreciators by percentage of new on the road (OTR) cost retained after three years and 36,000 miles – based on predictions by VIP Data
1. Fiat Tipo Station Wagon 1.4 MPI Lounge 6spd
2016-Cost new: £17,905Value retained: £4,400You lose: 75.43 per cent
Here it is folks, Britain's worst depreciating car by percentage value lost over three years. Or if you're a glass half full type, Britain's best-used car bargain. Yes, you'll be feeling a bit sick if you've just flushed £13,505 down the pan for the privilege of driving a top-spec Tipo estate for three years and 36,000 miles – but imagine how chuffed the new owner will be to get behind the wheel for the pittance you'll be asking. The Tipo Lounge kit list includes sat-nav, 17-inch alloys, auto lights and wipers and a reversing camera, and it's superbly practical to boot. It's let down by a stodgy driving experience, plain-Jane looks and a low-rent feel to the cabin – as well as the fact everybody seems to want an SUV/crossover these days.
2. Peugeot 308 hatchback 1.5 BlueHDI 130 Tech Edition auto
2017-Cost new: £26,745Value retained: £7,175You lose: 73.17 per cent
It takes a special kind of Peugeot enthusiast to fork out nearly £27k on a 308 hatchback that isn't a GTi model, but that's what it costs to park the most expensive 308 Tech Edition on your drive. It's laden with kit, and it's the good stuff too – the trim level includes the driver assistance pack with adaptive cruise control, lane-keeping assistance, auto emergency braking and speed limit recognition. That's on top of the climate control, parking sensors and big touchscreen of the standard model.
Trouble is, all that fancy gear doesn't hold much sway on the used market, which is why you'll be nursing a near £20k hangover if the salesman talked you into upgrading to one of these.
3. SsangYong Turismo MPV 4wd Selectable 2.2 ELX T-Tron auto
2013-Cost new: £26,745Value retained: £7,275You lose: 72.80 per cent
If you want a big new people carrier at a bargain price the SsangYong Turismo MPV looks the part. For its size it's as cheap as chips and has a practical interior too. But the Turismo is none too pretty, has a big thirst at the pumps and is not very good to drive – although it does have 4x4. If you don't care about such niceties you might feel pretty smug driving out of the showroom, but come resale time you might be forced to rethink your financial strategy as you struggle to get much more than a quarter of your investment back.
4. Audi A8 saloon Quattro 3.0 TDI V6 Vorsprung Tiptronic
2018-Cost new: £102,205Value retained: £28,325You lose: 72.29 per cent
The Audi A8 suffers the same depreciation curve as all of its rivals in the luxury saloon sector. In other words its value falls off a cliff the moment you drive it home from the dealer. You'll need a stiff drink come resale time for any of the big three German brands executive limos, but somehow the Audi A8 has more of a whiff of posh airport taxi than either the Merc S Class or BMW 7 Series, and as a result it beats them both to a place in the worst depreciating top 10.
5. Vauxhall Insignia Grand Sport hatchback 4WD 2.0 Bi-Turbo GSi Nav auto
2017-Cost new: £42,520Value retained: £11,850You lose: 72.13 per cent
The Vauxhall Insignia Grand Sport is a great value rep-mobile in the classic sense, and bread and butter models hack happily up and down the motorways of Britain helping to keep the wheels of industry turning. You don't see many top-spec 4wd Bi-Turbo GSi models though, and if you do it's probably a pre-registered demo car being taken home for the weekend by the dealer principle or head salesman. You only have to look at the sort of Audi or BMW you can drive for the same money to realise why demand for the poshest Insignia Grand Sport is so limited – new or used.
6. Peugeot 108 3dr hatchback 1.0 Allure
2014-Cost new: £13,670Value retained: £3,825You lose: 72.03 per cent
The Peugeot 108 – like its Citroen C1 sister-model – is getting long in the tooth, and there are more desirable city cars out there on both the new and used market. The Allure is a decent spec, if a little pricey new, and sadly the used market doesn't value luxuries like reversing camera, alloy wheels and keyless-go very highly in a sector where most buyers are looking for a cheap and cheerful runabout.
7. Vauxhall Astra Sports Tourer 1.6 CDTi Elite Nav auto
2015-Cost new: £27,890Value retained: £7,850You lose: 71.85 per cent
It's a decent enough car to own and drive, but the Vauxhall Astra just doesn't make financial sense when it's spec'ed up in expensive range-topping trim with leather seats and dual-zone climate control. There are just too many alternative options for family car buyers who mostly want SUVs or MPVs instead of estate cars these days, while the historic Griffin badge doesn't appeal to the thrusting young things who prefer to race about in BMWs and Golfs.
8. Citroen C1 hatchback 1.0 VTi Origins
2014-Cost new: £14,160Value retained: £4,125You lose: 70.87 per cent
By dint of its sportier-looking grille design – we think – the Citroen C1 city car performs ever-so-slightly better than its Peugeot 108 stablemate on the used car market. Most second-hand city car buyers are looking for a bargain, and don't want to pay for luxurious trim levels when the first owner has finished with them. So buy a fancy high-spec model at your peril.
9. Peugeot 2008 SUV 1.5 BlueHDi 120 Allure Premium auto
2016-Cost new: £24,150Value retained: £7,050You lose: 70.81 per cent
The supermini-based Peugeot 2008 SUV/crossover was never a particularly alluring option, even if you did pick the Allure trim level for its 17-inch alloys, parking sensors and climate control. Sadly the lacklustre driving dynamics, which include a wallowy ride and over-light steering mean the model isn't in great demand on the used market. The Allure is quite a pricey version too, and with the lower-spec Access model already decently kitted out, the 2008 Allure was never going to set the used car forecourts alight.
10. Citroen C3 hatchback 1.5 BlueHDI 100 Flair Plus
2016-Cost new: £20,285Value retained: £5,960You lose: 70.67 per cent
Citroens are meant to be quirky, cheerful, and most importantly cheap. Which is why it's a bit rash to splurge £20k+ on a highly-spec'ed version of the C3 supermini. It may have charm a-plenty, and lots of cossetting luxuries, but when you come to sell it then hard economic facts still apply – and that expensive trim option won't pay you back, so enjoy it while you can.
Worst depreciators by actual cash lost
This list probably falls into the 'if you have to ask, you can't afford it' category, but just for fun here are the 10 best ways to lose the biggest cash fortune when buying – and selling at three years/36 months – a new car. Many limited-edition, exclusive and special order models are not included in our data due to their rarity but these are the worst performers that are commonplace enough to make the cut.
As you'd probably expect the biggest losers are those ferociously expensive luxury cars that don't have the exclusivity or rarity of real exotica. So just how bad can things be..?
10. Bentley Mulsanne Saloon LWB 6.75 V8 Mulliner
2010-Cost new: £294,775Retained value: £109,325You lose: £185,450
9. Bentley Continental Flying Spur Saloon 6.0 W12 S
2013-Cost new: £169,800Retained value: £52,850You lose: £116,950
8. Mercedes-Benz S-Class Maybach S650 V12 First Class Cabin
2017-Cost new: £190,545Retained value: £81,375You lose: £109,170
7. Bentley Continental GT & GTC Convertible 6.0 W12 First Edition
2018-Cost new: £212,640Retained value: £105,800You lose: £106,840
6. Range Rover LWB 2.0 P400e PHEV Autobiography
2017-Cost new: £170,525Retained value: £70,800You lose: £99,725
5. Nissan GT-R 3.8 V6 Nismo
2016-Cost new: £174,995Retained value: £79,150You lose: £95,845
4. BMW 7 Series M760Li xDrive 6.6 V12
2019-Cost new: £139,120Retained value: £44,550You lose: £94,570
3. Mercedes-Benz AMG GT Roadster 4.0 BiTurbo
2019-Cost new: £186,975Retained value: £95,675You lose: £91,300
2. Rolls-Royce Ghost Saloon 6.6 V12
2010-Cost new: £229,980Retained value: £140,300You lose: £89,680
1. Bentley Bentayga 4.0 V8 Mulliner
2016-Cost new: £153,155Retained value: £68,375You lose: £84,780
Now check out our round-up of the cars that hold their value best on the UK market...