Buying a new car - your complete guide
Our top tips for buying a new car, whether it's from a dealer, online broker, or a car supermarket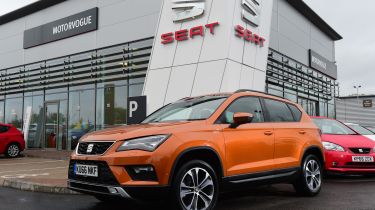 New car buyers have never been faced with so much choice, with the marketplace filled to bursting and new models still arriving faster than ever before.
Much of the expansion is down to manufacturers exploiting fashionable new sectors. We used to call them 'niches', but people are buying vehicles such as SUVs and crossovers in such numbers they're now more mainstream than the average family hatchback.
It's not just types of car, but also the choice of powertrain that's become more complicated. Increasing numbers of PHEV and electric cars are available from all the major manufacturers, often in a range of body styles too. With the government intent on banning the sale of new internal combustion engines in new cars from 2030, it seems likely the term 'alternative powertrain' will become just as redundant as 'niche' in pretty short order – if it hasn't already! Buyers are already having to learn about different types of hybrid, and increasingly battery capacity and types of electric motor will be part of the car-buying vernacular too.
Meanwhile, along with all that change, there's been a quiet revolution happening around the way you buy your car. The traditional networks of franchised dealers are still powerful, but there are now new car supermarkets, retail-only outlets in shopping centres, car brokers, and a new world of online car retailers vying to part you from your cash. You can even buy direct from some manufacturers online, and very often a fast delivery service means you don't even have to leave the house from the start to the finish of the new car buying process.
With all these sales options available to new car buyers, you really need to know the pros and cons of each in order to choose which road to go down. As a prospective buyer, you'll need to consider what you want from the buying experience. Of course, the best price possible is an obvious priority, but do you need help choosing the right car? And what kind of finance are you willing to sign up to? Is the aftersales experience important? And are you happy to sacrifice some benefits in order to get a better deal? However, before you decide which route to go down in order to purchase your new car, you first first need to decide what car you want to purchase.
Buying a new car - the big questions
Dimensions and space are among the key things to measure when picking your next car. Below are some other key questions that you should think about before purchasing your new car in order to help make your decision a little easier.
How big is your budget?
The size of your budget is the most significant factor when you're choosing a car. So while the rest of this chart can be approached (as with the car-buying process itself) in a non-linear fashion, the first thing you do should be to work out exactly how much you want to pay.
How big should your car be?
Downsizing may have become a buzzword in recent years, but 'rightsizing' should be your focus when choosing a new car. Think carefully about how you will use your vehicle, and buy the model that most closely fits your needs. A car that is too small will be frustrating in day-to-day life, while one that is too large will cost more than it needs to.
Dimensions
Buy a big car and you'll need enough space to park it – sounds simple, but many's the motorist who has failed to take wing mirrors into account and so not been able to fit their new wheels into a tight garage. Those parking on the street should consider length closely due to parking-space constraints, while the wheels of some super-wide cars won't fit into marked bays, risking their owners a ticket.
Class
Those looking for an urban runabout would once have defaulted to a supermini or city car, but small SUVs appeal to town dwellers thanks to their ability to smooth out speed bumps. Conversely, you may have your heart set on a large SUV, but looking closely at how you use your car may lead you to MPV or estate brochures. One thing's for sure: with at least 15 classes to choose from, it's worth giving this decision some thought.
How big is your family?
Hopefully an easy question to answer, but it's worth thinking about the physical size and shape of your family members, too. Households with young children should keep an eye on how much space a rear-facing child seat may rob from the front compartment, while parents should take their tall teenagers along on any test drive in order to ensure there's enough rear head and legroom for their offspring.
How big does the cabin need to be?
A small car may have a surprisingly spacious cabin, while some larger vehicles resemble a reverse Tardis in their packaging – so don't assume you have to limit yourself to a specific class. When taking cabin size into account, be sure to have a good poke around to see how much interior storage is on offer, and how many useful features (such as removable bins or shopping-bag hooks) are present. It's a good idea to get children to give a verdict on the view out from the rear seats, too, particularly if they're prone to travel sickness. And if you're keen on a panoramic sunroof, bear in mind that these can eat into headroom.
Do you need seven seats?
If the answer is 'yes', you'll almost certainly be looking at an MPV or SUV – although the Tesla Model S is available with rear-facing jump seats. Either way, selecting a vehicle with a third row typically adds cost and involves choosing a long car, but some parents wouldn't settle for anything less – if nothing else but for the option of ferrying their children's friends. Bear in mind that boot space tends to be greatly reduced when all the seats are in place.
How big does the boot need to be?
Boot sizes tend to increase as you move further up the automotive food chain but, just as with cabin space, not all load areas are created equal. And while the capacity in litres is a good yardstick when assessing how much luggage room is on offer, be sure to inspect the shape of the boot and its aperture, as well as whether there is a lip over which you will have to load baggage. If you're a regular golfer or use a child's buggy, don't be afraid to take these items with you to the dealership to see whether they fit inside a potential purchase.
How high is your annual mileage?
It used to be the case that motorists covering high mileages would automatically choose a diesel saloon. However, the petrol/diesel binary is not as simple as it once was, while the arrival of new body styles has also added greater choice. An SUV, for example, may prove highly capable over long distances, but the strong aerodynamic benefits of a four-door coupé will make the latter a quieter option at speed. Meanwhile, those spending a lot of time behind the wheel should pay close attention to seat comfort, as well as thinking carefully about whether they opt for an automatic or manual gearbox.
What kind of miles do you cover?
The mileage equation also involves the type of roads on which you generally drive. Those spending a lot of time on A and B-roads may seek strong handling, while motorway drivers often prioritise refinement. And then there are urban motorists, who typically value manoeuvrability – although most cars offer a blend of these facets.
How big should your engine be?
The higher your annual mileage, the bigger your engine should be, right? Not necessarily; modern turbo tech (see below) means a 1.0-litre unit can produce as much as 138bhp – more than enough for most needs. Nonetheless, frequent motorway travellers may wish to seek out a larger engine and the implicit extra torque that brings, while sports car buyers might take the mindset that bigger is nearly always better.
As a rule of thumb, an engine with a single turbo will produce 20 to 35 per cent more power than a naturally aspirated unit of the same size, depending on the state of tune. Variable and sequential turbos all but eliminate lag, twin and even quad turbos can be fitted to performance cars, while a model with a standard single turbo can be kept 'off boost' if its driver has a light foot, resulting in better economy.
If you're after more car buying advice check out our guide to finding the best car finance deal.
Where to buy to buy a new car
The different options for buying a new car each have their own positive and negative points, so we've put together this straightforward guide to help you choose the best way for you to buy a new car. Click the links below or on the left to jump to the buying option that most appeals to you. Visit our sister site Buyacar for all the latest used car finance deals...