Range Rover
As a 4x4, an SUV and a luxury car, the Range Rover is jack of all trades. But it's a master of all trades, too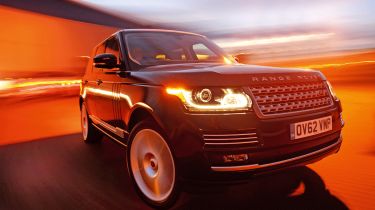 Call it what you like. Whether you think the Range Rover is a 4x4, an SUV or a luxury car, there's only one way to describe it: it's a winner.
We knew it'd take something special to knock the Mercedes S-Class – winner of six consecutive Luxury Car crowns – off the top spot, and that's exactly what Land Rover has produced. Put simply, no other car in the world can hope to match the new Range Rover's huge array of talents.
Established customers will find all of the practicality and off-road ability they've come to expect from the three previous generations of this legendary 4x4. It can show a Land Rover Defender the way home when the going gets rough, but hit the road, and the Range Rover is as civilised as the very best luxury cars.
Supreme comfort and refinement come as standard, and increased rear legroom gives true limousine credentials. The new lightweight aluminium chassis, meanwhile, does wonders for the gigantic off-roader's performance, handling and fuel economy.
Here, 
at last, is a Range Rover that's every bit as enjoyable to drive on a B-road as it is splashing through puddles on muddy farm tracks.
The new model retains the timeless looks, desirability and elegance of its predecessors, and its natural habitats range from grassy paddocks and muddy fields to glitzy hotels and glam restaurants. So whether you're towing a horsebox, attending a shoot, lunching at the Ritz, or just popping to the shops, the Range Rover will do it all – in unrivalled luxury.
OUR CHOICE: 3.0-litre TDV6 
Vogue SE (£77,910) Steer clear 
of the petrol Range Rover, as the TDV6 Vogue SE wants for nothing in equipment or performance.
Commended
All-new Flying Spur looks much more purposeful, and cabin quality is in a different league. Plus, the ride comfort is dreamy, while no rival comes close to matching the Bentley image.
The Jaguar XJ is fun to drive and surprisingly agile for its size. Its arresting looks ensure you'll make an entrance, while drivers get to enjoy its sparkling dynamics and passengers will love its sumptuous interior.