Renault Megane RS - best hot hatchbacks
The Renault Megane RS is a strong performer that handles beautifully and looks brilliant too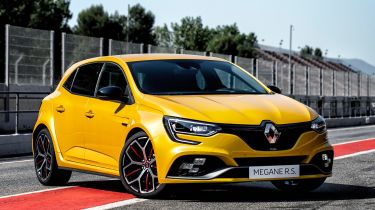 The newest version of the Renault Megane RS was a long time coming, but it's finally here and on first evidence, it appears to have been worth the wait.
Harbouring 279bhp and 390Nm of torque, the front-wheel-drive Megane RS is capable of 0-62mph in 5.8 seconds en route to a top speed of 155mph.
• Renault Megane RS 2018 UK review
Other than outright speed, the steering is very impressive: below 37mph (or 62mph with Race mode engaged), the four-wheel steering system tightens cornering, while above those speeds the rears will turn the same way as the fronts to aid stability.
It isn't perfect of course: the system can be inconsistent at times and on 19-inch wheels, the RS can fall victim to ruts in the tarmac.
Other than some minor foibles though, the Megane RS is a cracker of a hot hatch, with a list price that represents decent value to boot.
Top 10 best hot hatchbacks