Best Seven-Seat MPV: SEAT Alhambra
The SEAT Alhambra has made the MPV sector its own and after scooping the top prize last year, nothing in the past 12 months has been able to dislodge it from the top of the class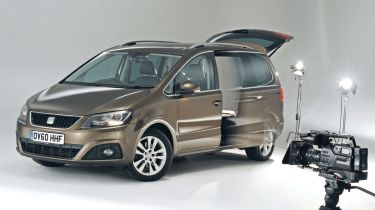 Why it won...
The SEAT Alhambra has made the MPV sector its own and after scooping the top prize last year, nothing in the past 12 months has been able to dislodge it from the top of the class. In fact, our three favourites in the MPV market haven't changed at all since last year.
If you value space and practicality above all else, the Alhambra really is the best people carrier that money can buy. Its vast interior can comfortably accommodate seven adults, and the ease with which its brilliantly practical sliding rear doors and folding seats all work really sets it apart from the competition.
The spacious and versatile interior even comes wrapped in a smart exterior and, unlike the closely related Volkswagen Sharan, its prices make rival models look expensive.
Mid-range SE trim is the undoubted sweet spot in the line-up, as it includes MPV essentials such as Bluetooth connectivity, an iPod connection and rear parking sensors – and all models come with more interior stowage space than you're ever likely to need.
SEAT is known for its eye-catching designs and for the strong performance of its sporty hatchbacks, so it's easy to overlook the Alhambra. But in reality, the big people carrier is the best car in the entire line-up.
And having seen off the new Vauxhall Zafira Tourer this year, the smart money is on the Alhambra making it a hat-trick of victories in 2013.
Our choice: 2.0 TDI 140 SE
We think the 138bhp 2.0-litre TDI is the engine of choice in the Alhambra, and SE is the best-value trim level. It includes three-zone climate control, tinted glass, cruise control, curtain airbags, seatbelt reminders for all seven seats and iPod connectivity.
Commended
Chevrolet Orlando
There's plenty of talent in this sector, but you don't have to spend a fortune to get one of the best. The Orlando is a simple recipe done well, with distinctive styling, a practical seven-seat cabin and decent handling. Add attractive prices and a strong aftersales package and you have a great-value people carrier.
Ford S-MAX
The S-MAX is still the number one MPV if you place style or driving pleasure at the top of the agenda. With handling that's good enough to shame lots of family hatchbacks and a practical cabin, the Ford is a people carrier that avoids the usual stigma that comes with owning an MPV.
Read our latest run down of the best MPVs