New Car Awards 2014: best city car
The Skoda Citigo is the 2014 Auto Express City Car of the Year, with the Hyundai i10 and Toyota Aygo commended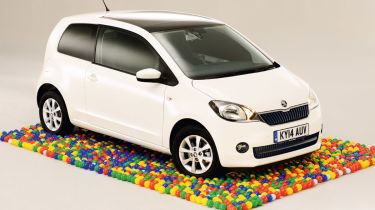 The remarkable Skoda Citigo is really on a roll, with a hat-trick of city car awards to its name. No matter how hard rivals have tried, they've failed to knock the Skoda off the top spot. So what makes this appealing little car so enduring?
As its name suggests, the Citigo takes to the crowded urban jungle like a duck to water. Compact dimensions, excellent visibility and an eager three-cylinder engine help you make the most of gaps in the traffic and park in tight spots.
What's unexpected is the Skoda's ability to take longer journeys in its stride. The nippy 1.0-litre engine is smooth and refined on the motorway, the cabin is well insulated from wind and road noise and the ride is supple.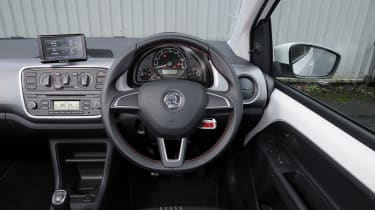 Also playing their part are the excellent driving position and comfy seats, allowing you to arrive at your destination free of aches and pains. Another surprise is the Citigo's family-friendly versatility. Yes it's a strict four-seater, but there's decent head and legroom for rear passengers.
And then there's the boot, which at 251 litres shames many rivals from the class above. The big-car feel extends to the Skoda's impressive tally of kit, which runs to luxuries including air-con, heated seats and Bluetooth, plus life-saving extras such as a low- speed collision avoidance system. And it's great value for money, too, with prices starting at £7,000 and most models exempt from road tax.
Practical, refined, cost-effective to run and good to drive, the Citigo proves the best things come in small packages.
Our choice: 
Citigo 1.0 75 Elegance GreenTech 5dr (£10,740) 
It's not the cheapest Citigo, but the range-topping Elegance model comes with the sort of big car kit that goes hand-in-hand with the little Skoda's grown-up driving experience and exceptional refinement.
Commended city cars
Hyundai i10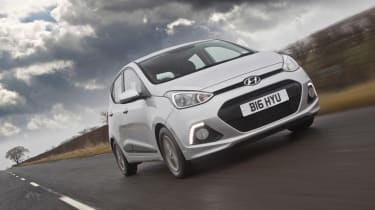 The new i10 builds on the success of its capable predecessor, with handsome styling, a classy interior and low running costs. A generous five-year warranty brings peace of mind. It lacks the Skoda's charm and sophistication, but the composed Hyundai i10 is still a great small car.
Toyota Aygo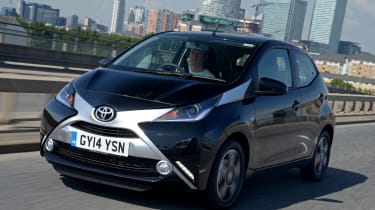 Toyota's latest Aygo has been injected with some personality and style, plus it comes packed with big- car features. Yet at its core, it still delivers the same blend of reliability and low running costs. Its five-year warranty gives it the nod over sister cars the Peugeot 108 and Citroen C1.