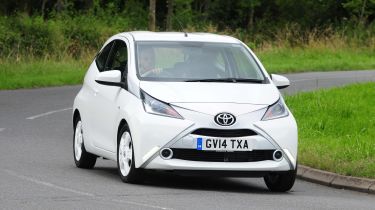 The second-generation Toyota Aygo has been jointly developed alongside the new Peugeot 108 and Citroen C1, but they are far from carbon copies.
The big draw compared to rivals like the VW up!, Hyundai i10 and its sister cars is the level of personalisation available on the Aygo. The Aygo is emblazoned with an 'X' running from the A-pillars to the front grille – just one of a number of parts that can be swapped around in a variety of colours.
The original Aygo was a big hit for Toyota, with its compact dimensions, minuscule running costs and cheeky looks earning it strong sales across the UK. So the Japanese brand hasn't messed with a winning formula for the second-generation car.
It's powered by the same three-cylinder engine and employs the same lightweight build. But Toyota has tried to give the Aygo even greater youth appeal with a funky design, range of personalisation packages and smartphone-optimised infotainment system.