Toyota Prius - best plug-in hybrid cars
The latest Toyota Prius is the best yet, and the same goes for the plug-in hybrid version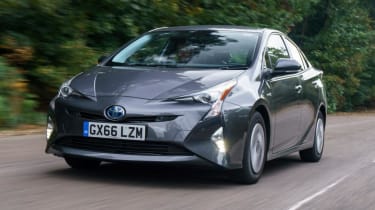 The fourth-generation Toyota Prius is better than ever, and the same is true of the latest plug-in (PHV) version. Ushering in a new look, upgraded underpinnings and even lower running costs, the Prius PHV is one of the most convincing plug-in cars on the market.
Despite rivals offering more power, the Prius has no trouble keeping up with faster moving vehicles on the road. If you're gentle on the throttle and the batteries are charged, the PHV will progress quietly on electric power alone, seamlessly adding petrol power when you ask for extra shove.
Toyota claims a 39-mile EV range, and it can cruise on electricity at speeds of up to 84mph. The various drive modes allow you to prioritise battery power or charge them using the engine, while an optional solar roof can add around three miles of range on a sunny day.
Top 10 best plug-in hybrids to buy now