Volkswagen Golf GTD - Best diesels
All the best bits of the Golf GTI but with running costs to rival a supermini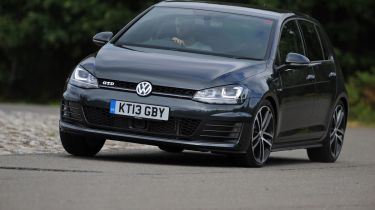 This Volkswagen Golf GTD effortlessly blends hot-hatch performance and supermini efficiency. It's one of the most capable cars on sale, with everything that's great about the Volkswagen Golf plus 181bhp and claimed fuel economy of 67.3mpg. CO2 emissions of 109g/km make this an affordable company car choice, too.
The GTD treads the line perfectly between a fast hatch and usable family transport - 0-62mph is dispatched in 7.5 seconds but the diesel's slug of in-gear torque makes for smooth and speedy overtaking. The GTD is every bit as happy cruising on a motorway as it is blasting away from the lights in town. VW's clever XDS+ traction control system improves handling and reduces understeer, making this car great fun to pilot down a back road. The manual gearbox is slick but the automatic is best avoided - especially as there's a penalty to pay on running costs.
The GTD features the same interior as the standard Golf - so moderately spacious, but beautifully built with fit and finish to rival any executive saloon.
It may be damning with praise but if anything the VW Golf GTD feels too polished - it's such a capable car that keen drivers might wish for a bit more involvement.
Best diesel cars to buy