Volkswagen up! will soon join the Ford Fiesta in retirement
Production of VW's dinky city car will cease before the end of the year, with no direct replacement in sight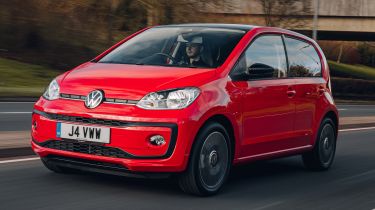 The adorable Volkswagen up! has been on sale for a remarkable 12 years, during which time it managed to take home our City Car of the Year award four times on the trot from 2017 to 2020. However, Volkswagen has confirmed production of the up! will come to an end before the year is up.
Individual configurations from the factory are no longer possible for UK customers, meaning potential buyers will have to fight over the pre-configured cars already in dealer stock.
The up! was introduced in 2011 as the successor to Volkswagen's previous entry-level models, the Lupo and Fox. It was also one of a trio of boxy city cars produced by the Volkswagen Group, the Skoda Citigo and SEAT Mii being the other two, though both were discontinued some time ago.
The up! was a regular on our list of the cheapest new cars on sale in the UK; it started from less than £8,000 when it first went on sale and was priced around £15,000 by the time order books closed. It was still offered in the UK in a choice of three- or five-door configurations until very recently, though the only engine available was a 1.0-litre three-cylinder petrol that produced 64bhp.
The sportier up! GTI was fitted with a 113bhp version of the same three-pot engine, and provided bags of fun in an easy-to-park package that reminded us of the original Golf GTI. 
Meanwhile the all-electric e-up! swapped the petrol engine for an electric motor that produced 81bhp and 210Nm of torque. When it first launched in 2013, the e-up! was powered by a 18.7kWh battery that allowed for a range of just 83 miles, but the pioneering electric city car was updated in 2020 and received a larger 32.3kWh battery, nearly doubling the range to 159 miles. 
If we're being honest, it was only a matter of time before the VW up! kicked the bucket, considering many of its original foes, such as the Citroen C1, Peugeot 108 and Toyota Aygo, have all bowed out. The up! isn't the only giant from the small car market to leave us in 2023, either, as the Ford Fiesta was laid to rest back in July. 
When production of the up! comes to an end, the Polo supermini will become Volkswagen's smallest and cheapest model on sale. However, there's some speculation that the Polo may also be shown the door after the current generation. The German automaker isn't abandoning the small car segment altogether, though, as the pure-electric ID.2 – a production version of the ID.2all concept unveiled in March – is expected to make its debut in 2026.
Check out the latest Volkswagen news and reviews here...