Volvo XC90 D5 Momentum - Best diesels
The XC90 comes with a variety of powertrains, but the diesel is still the best all-rounder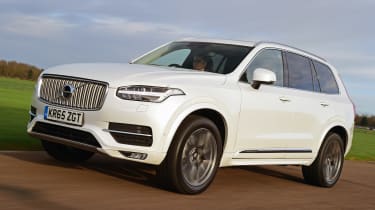 The Volvo XC90 is a former Auto Express Car of the Year, and it's still a great seven-seat family car.
That's largely thanks to the XC90's trailblazing combination of technology, efficiency and safety. The big Volvo is also a refreshing antidote to all the German brands that are so effective in the SUV sector, thanks to the 'lighter touch' of its Scandinavian design.
The XC90 boasts family-friendly practicality, while its array of technology includes energy-absorbing seats, City Safety auto-braking, Queue Assist and a self-parking mode.
There are punchy petrol and eco-focused hybrid versions of the XC90 available (incidentally all using 'downsized' 2.0-litre four-cylinder engines) but as we're talking diesels for this feature, we're here to sing the praises of the XC90 D5 Momentum. It gets a 235bhp twin-turbo 2.0-litre four, which offers reasonable performance and efficiency, while sounding impressively refined and cultured in spite of its small-ish capacity. It will also return 47.3mpg, which isn't at all bad for a full-size SUV.
Best diesel cars to buy in 2019